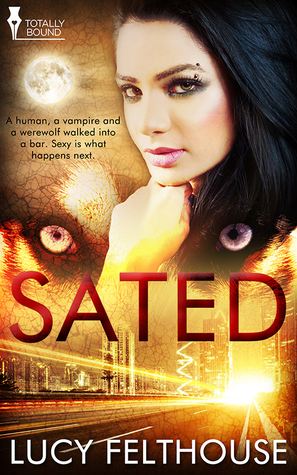 How far would the love of you life go to help you fulfill a fantasy? Ace goes all the way and then some!
Anessa and Ace have an interesting and really good relationship. I like them immediately and was intrigued with the idea of him setting up an opportunity for Anessa to participate in a menage encounter, as long it included him. I could respect that. I also was impressed to see that Anessa wanted to take it slow and not simply agree to whomever or go from slow to right-now even when she realizes she's attracted to Barton. Then it got a little wonky.
There was one aspect of how Ace, Anessa and Barton end up in bed together that made my eyes squint. It was like Anessa suddenly didn't have much choice in the 'when' aspect and that felt wrong. But then I started thinking about how this whole scenario is about her crossing items off her sexual bucket list and I had to wonder if this mild form of forced seduction wasn't maybe Ace's way of facilitating one more check box. He seemed very protective of Anessa and I didn't see him putting her in a position where she could be hurt or targeted by an unwilling admirer. Anessa seems turned on by the eager Barton and that helped, also. Anyway, that was the thought process that prompted me to keep reading. I wanted to see if the author had a purpose behind Barton's pursuit and how it would affect Ace and Anessa in the end. Alas, I didn't get an answer to all my questions but I did walk away feeling that Ace and Anessa would be fine. They might even invite Barton to join them again some time.
Sated is told from Anessa's first person perspective. I would have liked to have seem what was going on in Barton's head but I guess that's what made this story have more tension. The reader only "feels" what Anessa feels and knowing Barton's thoughts, or Ace's for that matter, might would have lessened that atmosphere.
The writing is a little more crude in some places than I like for erotic romance but this isn't meant to be a great epic love story. It's a moment in time where Anessa is getting some serious up close and personal attention from two lusty (more than) men. Readers looking for long term declarations of eternal love (where Barton's concerned at least) or even a permanent menage, will be disappointed. On the other hand, this is a fantasy fulfilled quickie. Read from the perspective of a woman who enjoys variety in her kink while maintaining a strong relationship with her lover, then this is quite satisfying.
Editor's note:
This article was originally published at Long and Short Reviews. It has been republished with permission. Like what you read? Subscribe to the
SFRB's free daily email notice so you can be up-to-date on our latest articles. Scroll up this page to the sign-up field on your right.