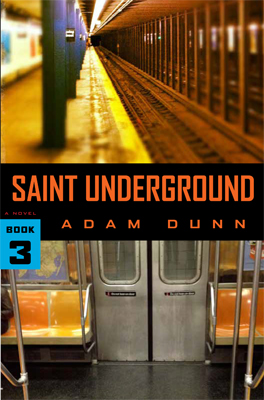 With his cover blown and everything up in the air, Special Agent Everett More is back at the NYPD with Detective Sixto Santiago, much to Santiago's irritation. So when the presidential election of 2016 heats up and the feud begins, it's up to More and Santiago to get to the bottom of the corruption coloring the election. But will they be able to set old grievances aside long enough to put things right? Or will their version of New York City fall into an even darker depression?
In this third installment of Adam Dunn's "More" series, things get even more crazy and convoluted. I wasn't sure that anything could get more insane than the previous two books, but I underestimated the power of Everett "Ever" More. Now that his cover has been blown, he has no real need to be as secretive as he had before. As over the top as More can be, he's always intriguing in an 'oh my god what next' kind of way. His relationship with Santiago is one of the best parts of this series.
NYPD Detective Sixto "Six" Santiago is both amusing and aggravating. He tends to grouch a lot, but when you consider who he's partnered with, you begin to understand his constant state of annoyance. But he's a good guy at heart, trying to better himself and get away from More at all costs. Although their relationship is a bit antagonistic, they work well together, even when More has gone a bit off the deep end. His ability not to strangle his partner is probably his greatest strength.
As ever, Saint Underground is an exhilarating rollercoaster ride of a novel. Once the action starts, it doesn't stop until the end. It's obvious that the author has done his research although, at times, he's done too much. When he gets into describing More's weapons or any of a handful of other items, he does get a bit carried away. The overly detailed passages tend to disrupt the flow of the story for me, detaching me from the action. However, if you're more familiar with the kinds of weapons and vehicles that the author's discussing, it might not be as much of a knee-jerk for you. Full of intrigue and politics, this series might not be everyone's cup of tea, but if you like a thriller with political elements then it's definitely a good choice.
Editor's note:
This article was originally published at Long and Short Reviews. It has been republished with permission. Like what you read? Subscribe to the
SFRB's free daily email notice so you can be up-to-date on our latest articles. Scroll up this page to the sign-up field on your right.