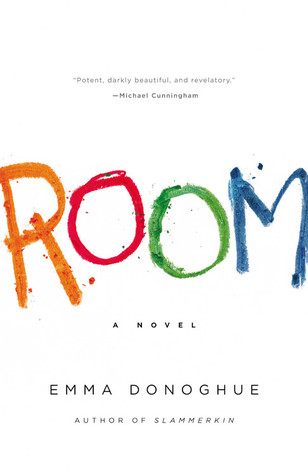 Strap in…it's going to be an interesting and gut-wrenching ride.
Room isn't a book I would've picked up normally. This story is told from the perspective of the child and that's not generally my cuppa. That said, once I started the book I couldn't stop. The situation Ma and Jack find themselves in isn't anything anyone would want to be in. Ma – her name is never mentioned – is kidnapped at the age of 19 by Old Nick. While I had moments I wanted to know more about him and his motivations, mostly I just hated Old Nick. The author did a good job of making me ill from reading about him. Yeah, he's bad.
I can't imagine being a kidnapping victim or the things Ma and Jack had to go through to survive. To be locked in an 11×11 room… the very thought makes me shudder. I have to say I was emotionally invested in the story. I had to know what would happen to the characters, even Old Nick. I wasn't disappointed. While it's not a feel-good read, there were moments I simply couldn't put the kindle down.
That said, there were trigger moments for me. Jack, although five years old and smart as a whip, is emotionally behind. How can he not be? He hasn't ever experienced the outside world and has no idea how to interact with other people beyond Ma. One of the things she does to keep him close is she still nurses him. This was a trigger for me in that it put me off of the story. I get it. She nursed him to ensure he'd get the proper nourishment and to keep that bond. She had to be sure he'd grow up right. But the nursing made me uncomfortable. Then there was the incident with the tooth. Ma has bad teeth and some fall out. One in particular does and Jack nabs it. It's his connection to Ma. What made me uncomfortable about Tooth – as he calls it – is something kids do. He sticks it in his mouth. He sucks on it, carries it around and puts it in his sock…then sticks it back in his mouth. The germ factor was more than I could handle. If you're not wild about kids who stick things in their mouth or the older child nursing issue…then this might not be the book for you.
But honestly, while this wasn't something I'd have picked on my own, I'm glad I read it. Anyone could be that girl who is kidnapped. She thinks she's helping someone. Who hasn't done that? It's a plausible story. Interesting, intriguing and fascinating since the story is told from Jack's point of view, Room might be just the book for your reading list.
Editor's note:
This article was originally published at Long and Short Reviews. It has been republished with permission. Like what you read? Subscribe to the
SFRB's free daily email notice so you can be up-to-date on our latest articles. Scroll up this page to the sign-up field on your right.