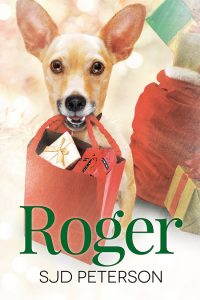 Colt had grown up in Texas, so the bitterly cold, snowy Michigan winters had come as an unpleasant surprise to him. Whether it was the insane cold, or perhaps residual feelings left over from a particularly nasty break up a few years ago, Colt found himself far more Grinch-like than he was comfortable with. Braving the bitter snow for a cigarette, Colt finds a small dog, Roger, lost and shivering. Can Roger help return Colt's Christmas spirit?
I found this to be a sweet and interesting Christmassy sort of story. While I completely sympathize with Colt and his distaste of the cold, snowy winter he's enduring I was pleased how finding Roger managed to snap him out of his funk. Readers looking for a strong, erotic romance might not find this story quite to their tastes. The bulk of the story is actually between Roger (the lost dog) and Colt, though towards the end of the story Roger's rightful owner, Killian, does show up. I, personally, was quite enthralled by Colt and his emotional attachment to Roger. I could understand readers being somewhat disappointed if they pick this story up wanting a sensual, erotic romance story, but readers looking for a sweeter, man-and-his-dog sort of story should be satisfied, as I found the emotion and connection in the story was vibrant and quite realistic. Aside from a sweet, chaste kiss there's no sex or "on screen" spice – while an intimate relationship is alluded to in the epilogue there is no spice within the story itself.
While the story is set around Christmas-time, I found the theme of Christmas to absolutely take a back seat to the connection between Colt and Roger. While not romantic as such, the relationship between dog and man certainly seemed front-and-centre to me, and deservedly so. I found it interesting and extremely well written and I could happily enjoy it for what it was. I was happily satisfied with the ending – a lovely happy ever after for Colt and Killian and wonderful to me as a reader.
Readers looking for a happy and friendly short story – one that can be safely shared with both younger and older readers – with the main relationship surrounding a lonely man who finds his happiness with the joy from a lost pet dog should find this short story heart-warming and sweetly satisfying. A great story with no sex and a lovely happy ending.
Editor's note:
This article was originally published at Long and Short Reviews. It has been republished with permission. Like what you read? Subscribe to the
SFRB's free daily email notice so you can be up-to-date on our latest articles. Scroll up this page to the sign-up field on your right.