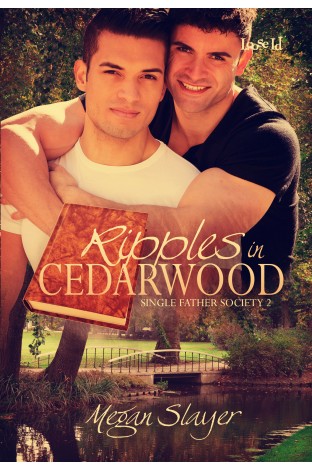 After their parents died, Steve moved back to the family home and shouldered guardianship of his younger sister – eleven year old Genie. Steve is a substitute teacher and does his best, but Genie misses their parents and Steve is feeling overwhelmed. He doesn't get much of a chance to interact with other adults and while he loves his sister dearly, their situation has him feeling isolated and lonely. There's also no chance Steve can hook up for a quick fling – as he refuses to bring strangers back home to where Genie and he live. Farin only ever gets Tuesday nights off, but when his brother has a meeting, Farin ends up taking his nephew to his swimming lesson, where he meets Steve. Despite his best intentions, Farin finds himself throwing caution to the wind and taking a chance on the younger man.
This is an interesting book with a strong sub-plot interweaving the blossoming romance between Farin and Steve. I really enjoyed how this wasn't just a boy-meets-boy style of story. Steve has the final court meeting and there's a rampant group of "Heteros for Cedarwood" bigots running around town throwing coffee on gays, graffitting property and generally spouting off hate-filled speeches. I was a little disappointed almost every adult character who wasn't gay in this book was a hate-filled, anti LGBT idiot, but I understood that the author was trying to show the small town was extremely anti-gay. The strong anti-gay sentiment from so very many random adults (not just the odd one or two here and there) jarred me from the story a number of times and felt a little over the top to me.
I really enjoyed how both Steve and Farin got off on the wrong foot at first. It's not common for two strangers to meet and instantly be on the same page, to not say something stupid or for them to communicate perfectly with each other. These things take time and understanding, and seeing both Steve and Farin struggle at times was wonderful – it made me all the more happy when they did get on the same page and start to bond together. I also appreciated how the pace of the story wasn't super-fast. The plot and relationship move steadily along, but it was refreshing that Steve and Farin didn't just tear each other's clothes off the moment they started talking. Nor was there a wham-bam style sex scene, but they took their time, talked and shared, getting to know each other. In such an erotic book that slower pace was something I really enjoyed.
The sex is vividly described and steamy hot. I loved the dirty talk, and the quick, hard sex. There's a little bit of light spanking but overall I didn't feel anything too over the top sexually was present to put readers off.
A delicious story with plenty of plot, I can heartily recommend this to M/M readers. I found this to be a sexy and fun read.
Editor's note:
This article was originally published at Long and Short Reviews. It has been republished with permission. Like what you read? Subscribe to the
SFRB's free daily email notice so you can be up-to-date on our latest articles. Scroll up this page to the sign-up field on your right.