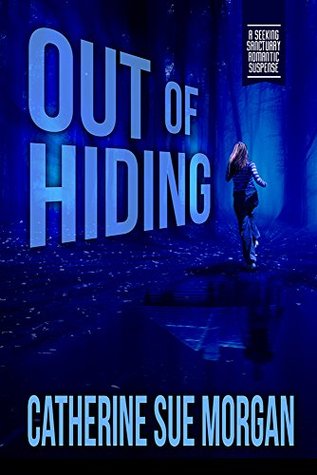 JD and Genevieve had spent some wonderful time together as children – some of the best times of Genevieve's life. Hunted and running, she finally decides to take control of her world back and heads to the one place she truly feels safe – their old summer camping grounds. JD is also trying to take control of his life, suffering from PTSD and feeling himself a danger to everyone around him, he's determined to force Genevieve to go – only that's not what he really wants deep in his heart. Can these two lost souls find their way forward together?
I found this to be a very solid, plot-focused mystery/thriller style story. While it took me a short while to really get into Genevieve's character, I instantly enjoyed JD's rough style and really felt for him. Despite all his problems and demons – and regardless of how poorly he expressed himself and came across, he really did have every good intention and in his own way he was trying to protect everyone around him, Genevieve especially. I really loved his character from the very beginning.
I was a little disappointed with the pacing of the story at the beginning. Admittedly, there was a lot of "set up" that needed to occur – explaining Genevieve's situation, then her flight from the Marshalls etc. Being honest, I can't find much in those first few chapters where it would be possible to trim the story down. But even while reading this and accepting it, I couldn't help but feel it made the story drag. It felt clear to me we were simply setting everything up and moving from A to B to C so that we could get to the real meat of the story at D. Even though my perseverance though all this introductory set up paid off wonderfully when the pace sped up, it wouldn't surprise me if some readers give up instead of slogging through – and that would be a shame as this story really is excellent once it gets moving. Ironically, I also felt the tie-up of the romantic ending was a little too pat. Part of me wondered if perhaps the author ran into a tight word-limit or something similar, as the ending just didn't feel as well paced as the middle section.
The pacing in the middle of the story was excellent. I loved the slow progression of the romance budding between JD and Genevieve and the slow unfurling of the mystery/suspense plot. That coupled with really complex, interesting characters made much of this story a real pleasure to read. I thought there was buckets of chemistry between JD and Genevieve – more than enough to fan the romantic flames between them. I also liked not none of their relationship was particularly easy for either of them. They both have secrets, regrets and baggage, both are far more complicated adults than the kids they used to know each other as. This made the story really vivid and deeply, complex and interesting for me.
A solid mystery with a wonderful plot and what I found to be an interesting, believable romance with deep, realistic characters and lots of good chemistry.
Editor's note:
This article was originally published at Long and Short Reviews. It has been republished with permission. Like what you read? Subscribe to the
SFRB's free daily email notice so you can be up-to-date on our latest articles. Scroll up this page to the sign-up field on your right.