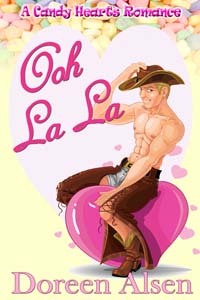 When straight-laced gets unlaced, the room heats up and clothing becomes optional. Inhaler at the ready, ladies, it's going to be a bump and grind kind of night.
If opposites attract, Veronica and Simon are what my teen likes to call OTP (one true pairing). She can barely walk and chew gum… scratch that, she shouldn't even try, and he has dancing skills worthy of the big screen. Then there's the fact that she's all about numbers and spreadsheets and as Simon puts it "math is made of evil". It wasn't hard to see that they had sexual attraction but I wanted to know that it went deeper.
The story is a little cliche with some of the secondary characters being "world famous" this or married to a "world famous" that but, I was more interested in how klutzy Veronica was going to handle uber sexy Simon and what happens when her ultra conservative family finds out about his extra curricular dancing? He wants to be a choreographer for a local prestigious dance company but doesn't seem too concerned about them finding about about his late night stage shows. It felt a little unbelievable but the author was weaving an interesting 'what if" kind of story and I wanted to see where it went.
One thing about the writing that caught my attention, in a good way, was the author's attention to describing the setting and atmosphere in detail. The way she describes the strip club, the lights and music, the way she dresses the characters, it was colorful and three dimensional. I could see it and felt drawn into the scene.
I did pick up on one or two inconsistencies within the story that drew me out briefly (one sentence says she'd never eaten at Esmeralda's and the next chapter begins by stating it's her favorite place). The other was his knowledge and then seeming lack of knowledge about the Ballet Gala. These weren't game ending issues, just noticeable items that are easily fixed.
I haven't read any of Ms. Alsen's other books but I did check them out after I met Veronica's friends. I'd like to read the others to get a better feel for this town and these people. There's some insta-love between Simon and Veronica that could be attributed to the fact that this is a short story. I did enjoy the fact that love seemed to give Veronica some growth and self confidence. She was able to stand up to her snooty parents and ask for what she wanted.
This is an enjoyable short story and piqued my interest to see how some of the other couples came together. Readers who enjoy opposites attract kind of stories, will likely enjoy this little novella.
Editor's note:
This article was originally published at Long and Short Reviews. It has been republished with permission. Like what you read? Subscribe to the
SFRB's free daily email notice so you can be up-to-date on our latest articles. Scroll up this page to the sign-up field on your right.