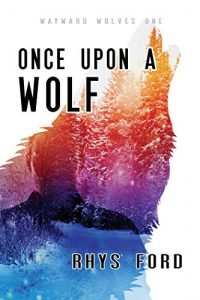 Loving a werewolf—loving Gibson with all his secrets—has its challenges, but Zach believes their love is worth fighting for, especially since his heart knows the big bad wolf is really a prince in disguise.
Zach had left the city and his previous life behind him. What he hadn't expected in the country was to be chased by a wolf into the lake. Gibson's life pretty much consisted of taking care of his brother, Ellis, who had remained locked in his wolf-form for years. Gibson rescued Zach from the lake, but all three men's lives were changed that fateful day. Can Zach accept Gibson and what his life entails?
I really enjoyed this story. I found it to be an emotional and (in a bizarre kind of way) romantic book. The attraction between Zach and Gibson was intense and almost instant, but I loved watching the two men circle around each other first before both giving in to the desire they each felt. Ellis broke my heart and personally I feel the author actually made Ellis the best character of all – tortured, painfully hurting and my heart just bled for him. Predominantly in wolf-form the author did a fantastic job to my mind in making Ellis both a sympathetic character and extremely interesting pretty much without Ellis himself saying a single word. I was desperate enough to learn if there was a sequel to this story – featuring Ellis' story – that I actually looked it up online and checked out the author's webpage (something that I almost never do…). This book is too new a release for there to be any word (that I could find, at least) on Ellis' story – but I would purchase it in a heartbeat, which clearly indicates just how much I loved this story and just how invested I became in Ellis, Gibson and Zach.
Readers wanting a deeply emotional story with complicated, multi-layered characters should find this as enjoyable as I did. While the plot is fairly straight forward – the men being snowed in together and then a small-town mentality about "big dogs" being aggressive killers etc – it's the characters and their own situations which really make this story shine. I personally liked the balance of plot and romance – character-driven stories with loads of chemistry and romance are just delightful. While a part of me felt like Gibson and Zach waited just a little too long to consummate their relationship the author did an excellent job of explaining why and the logic was very sound, I was just impatient for it by the time they finally indulged in some sex.
Hotly written and thoroughly romantic I absolutely loved this story. Complex and interesting characters kept me eagerly turning the pages and I sincerely hope there are more books coming down the line. This is a brilliant author and I fully plan to check out more of her books. Highly recommended.
Editor's note:
This article was originally published at Long and Short Reviews. It has been republished with permission. Like what you read? Subscribe to the
SFRB's free daily email notice so you can be up-to-date on our latest articles. Scroll up this page to the sign-up field on your right.