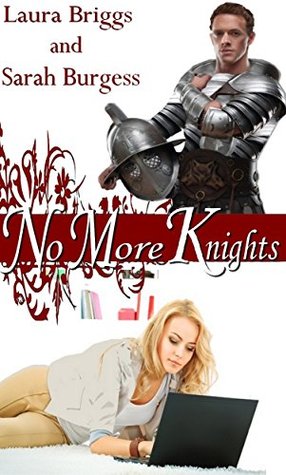 Katie can't recall the last time one of her friends wasn't in a relationship without getting something in return – a favour, help with moving or just enjoying the status of their trophy boyfriend. Back in college they'd been more inclined to fall in love, but those days were long gone. Katie feels strongly enough about romance – genuine romance – to decide she needed to give a real try in finding a guy who felt the same as she did. Who was interesting in creating a proper bond and who shared that special spark with her. Deciding to write a series of articles about her search, Katie soon finds herself signed up at the matchmaking site Heart's Quest, where the adventure of finding her real-life Knight really begins.
This is a lighthearted, fun romantic tale. While not strictly a comedy, I found a number of parts laugh out loud funny and thoroughly enjoyed the casual writing style. I enjoyed Katie's character and sympathized a lot with some of her feelings. To be honest I felt Kate's friends – all wanting something mercenary or superficial out of their various romantic relationships – were a bit over the top. While absolutely I agree many more people nowadays are only after "friends with benefits" or a superficial relationship, I'm not sure I agree most (if not all) people think romance, love at first sight and having a deeper, more meaningful relationship are gone. I think plenty of people still believe in this – and search for it themselves and wait eagerly for it. Having said that, I understand Kate's view and experiences needed to be this one-sided to make the story work. I just didn't feel it was very flattering to her social circle or particularly realistic.
I think the author did an amazing job with the characters though. Katie is interesting and someone who I felt connected to and engrossed in. And Matt was a wonderful character, charming and realistic but still definitely hero material. I loved Matt and Katie's initial meeting and enjoyed watching the two characters interact. I found this to be a very sweet, somewhat funnily cynical tale about love and relationships in the modern world. I think many romance readers will thoroughly enjoyed this story. I loved the strength of the plot and characterizations and didn't find anything sexily explicit to worry readers who prefer their stories sweet. I thought this was a story I'd happily share around with some friends and even my mother. Strong on plot and an interesting, vibrant hero and heroine.
A well rounded story with plenty for all readers. Recommended.
Editor's note:
This article was originally published at Long and Short Reviews. It has been republished with permission. Like what you read? Subscribe to the
SFRB's free daily email notice so you can be up-to-date on our latest articles. Scroll up this page to the sign-up field on your right.