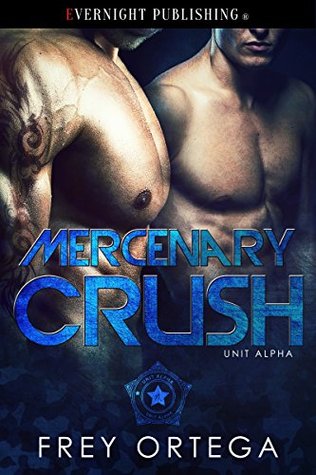 Thad's life had been miserable these past few years, a mere pawn in his father's games. After being rescued by Unit Alpha, Thad realised he'd merely exchanged once cell for another, the bounty on Thad's head meaning he still had practically no freedom at all. Thad is finding it difficult to adjust, but making the best of it. When Caleb kisses him though, the feelings of hope and the possibilities the small tenderness arouses blows open Thad's life and shows him maybe there really is something more out there for him.
I enjoyed this story. Despite being the second in a series I didn't at all feel like I was missing something – this book stands really well by itself. I was a little puzzled how the author jumped over the murder of Thad's father. Initially, the way the book starts led me to believe this would be a big plot device. Thad's father is a clear bad guy and the reason Thad's life is in shambles and the one who is trying to kill Thad himself. I was really surprised, therefore, when the story jumps six months into the future and skips almost entirely over the killing and death of this man and Thad's subsequence freedom and ability to live his own life on his own terms. I'm not sure if this was cut from the story due to a word-limit or some other necessary reason, or if the author merely wanted to focus on Thad's recovery and life out from under his father's thumb, but I couldn't help but feel the jump forward in time past all that was odd and a real lost potential for a great plot.
Also because of the time-jump in the story I felt a little like the chemistry between Thad and Caleb was a bit rushed. While the reader only experiences a chapter of time between the two men, more than six months passes in the story. So intellectually I know there is more than enough time for both Thad and Caleb to get to know each other, for their attraction and crush to deepen and really flourish. But as a reader I didn't get to see or experience any of that. Merely being told this is what happened didn't leave me with that same burning feeling of wanting to see them act on this long, drawn out feeling and be really eager for the culmination of their desires. Even though I know they'd spent a long time pining for each other, not experiencing it for myself meant the time from their first meeting to actually coming together felt a bit rushed and I wasn't as invested in them as I would have hoped.
That said, the sex between Thad and Caleb was truly sizzling and exceptionally well written. I really enjoyed the scene of them coming together and found it not only hot, but also good with the detail and I really felt the strong emotions from both men. I eventually became attached to both their characters and invested in them as a couple. I found the chemistry and camaraderie between them believable and sexy once the story really got moving. I also thoroughly enjoyed the plot – Thad and the rest of Unit Alpha needing to clean up the loose ends from when Thad's father ran the company.
An exciting and steamy M/M romance with a good, solid plot I enjoyed this story.
Editor's note:
This article was originally published at Long and Short Reviews. It has been republished with permission. Like what you read? Subscribe to the
SFRB's free daily email notice so you can be up-to-date on our latest articles. Scroll up this page to the sign-up field on your right.