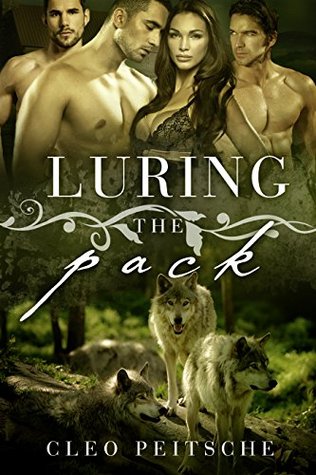 It's not wise to tease a wolf and running from one will surely get you chased.
Told in first person POV, Luring the Pack wasn't the typical shifter-finds-mate type paranormal I'm used to. Truly, I would be hard pressed to call this erotic romance, at least in the beginning. There was really little to no romance, especially throughout the first half of the book. The heroine has such mixed feelings for the shifters. Lust certainly. Curiosity, sure. Fear, definitely lots of that. There are more romantic feelings between the group towards the end but the lust seems to stay in the forefront.
This book pushes the line on nearly being monster erotica. Not because there's sex in partial or full animal form, or at least none that reaches fruition. It just had a dark gritty feeling about it. Young half naked woman running from a pack of wolves, knowing and accepting that the end of the chase means an orgy had a lot to do with that perception. Also, more than once Emmalina ends up on the ground and covered in mud. Or maybe it was her circumstances. Her house seems to be in disrepair, the car doesn't drive well, she has to ride a rickety bike, she's hungry, the trailer she rents to Judson and Dane is a wreck, and she works at a dead end job at the local diner. I waffled back and forth on not understanding her reasoning for making certain decisions and then trying to cut her some slack because she'd been through a lot of bad in a really short time.
This book took me out of my comfort zone and maybe that's a good thing every once in a while. I've read plenty of fated-mate type books and many fall into specific pattern I've come to expect. This ones different but then it also slowly moved more towards traditional. Her mates, including the Alpha, are fiercely protective and jealous of anyone touching her other than themselves. I did like her mates even though they were a little too pat. The Alpha (a doctor), plus two more wolves (a lawyer and a psychiatrist) who could both vie for beta and then there's Judson, he's something special that I won't reveal, but that was truly different and unexpected.
Readers who like to go for something a little different, who don't mind a little harshness or grittiness to their erotic paranormal stories may find this one entertaining. It's not just sex scene after sex scene, those don't even start until later in the story, but there is lots of teasing build up that made the first serious kisses pretty hot. When they all decide it's time to claim their mate, watch out, that's a lot of body parts and it's a good thing this girl has stamina and plenty of time to really think about how bad she wants this and them.
The men for the most part are actually pretty kind and considerate. Judson has a truly heart tugging back story and then, as often happens in packs, there's a power struggle that endeared the Alpha to me. Dane and Edward were just extra sexy man/wolf candy but I didn't have a problem with them being a part of this, either. There's also a whole side story to do with Emmalina's sister that feels kind of clunky and unnecessary to the story but maybe the author plans to use it as a jumping off point for another book. That could be interesting.
This isn't a terribly long read but it was thankfully long enough that it didn't feel like it was completely centered around sex. The power struggle I mentioned was well written with some pretty dramatic scenes. Overall a eye opening read that's sure to find an audience.
Editor's note:
This article was originally published at Long and Short Reviews. It has been republished with permission. Like what you read? Subscribe to the
SFRB's free daily email notice so you can be up-to-date on our latest articles. Scroll up this page to the sign-up field on your right.