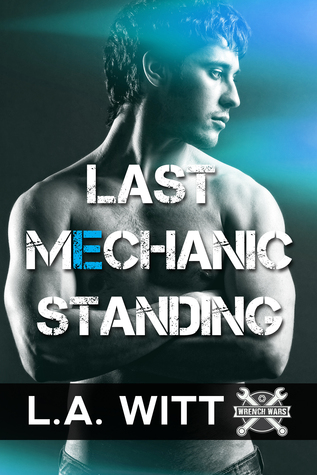 Chandler is trying to make a difficult decision – whether to sign on to the reality show Wrench Wars or not. Everyone else at the garage he works at has signed, but he has reservations. But the network is playing hardball, if Chandler doesn't sign on, then the whole garage will be passed over and all the other workers dumped from their contracts and Mark – the boss' son – will lose out hardest of all. Only Mark and Chandler have no idea just how low the networks are prepared to punch when it comes to their ratings.
I've read a few others of these Wrench War stories and I have to admit I've been really enjoying them. While you can read each of them as a stand alone, getting a better understanding of the big-picture and some of the characters that intersect has certainly helped me enjoy these stories even more. I really enjoyed both Chandler and Mark's characters. I liked that they were already lovers – though deeply in the closet – when the book started as this helped me feel like their relationship was already somewhat defined.
The drama and plot is definitely centred around Chandler and Mark interacting with their co-workers and the networks/producers of the reality show. I thoroughly enjoyed hating on the producer – Adam – and am fairly sure that was the whole point of his character. Adam does a few fairly reprehensible things and while nasty, it was admittedly refreshing to have such a hideous —and utterly believable and realistic — villain in a romance story.
I also found that a lot of the tension between the garage mechanics also added a fair bit of conflict and I felt this really had the plot side of the story feeling like it was definitely well fleshed out. This isn't a bunch of sex scenes loosely held together, but a strongly plotted story that happens to have some delicious M/M sex and romance in it. I really enjoyed this for that very reason. I also was thrilled with the happy ending – I found it to be the perfect completion of to an awesome story.
A good addition to the series and a wonderful M/M sexy romance that I'd happily recommend this to others.
Editor's note:
This article was originally published at Long and Short Reviews. It has been republished with permission. Like what you read? Subscribe to the
SFRB's free daily email notice so you can be up-to-date on our latest articles. Scroll up this page to the sign-up field on your right.