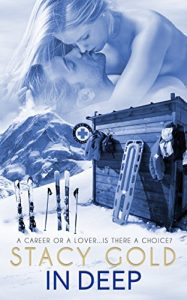 Max is Sophie's boss and determined to protect her, keep her safe. Their brief fling – a whole eight weeks together – might be long ago and before they started working together, but Max couldn't admit he still had feelings for Sophie and he certainly can't admit that he's restricting her job to try and keep her safe. Sophie is determined to prove she's just as good as the men on their team and doesn't care how hard she has to push to prove it. Will she and Max get in too deep together – and can they get themselves back safely when they do?
This is a fun read. I enjoyed the set-up – of wintery cold and snow patrol out on the mountains. I was a little disappointed that Sophie initially came across as a bit of a cliché – narrow minded in her assumptions on Max and her stubbornness in proving herself "worthy". It annoyed me that she just instantly thought Max was a misogynist and thought poorly of all women, that Sophie couldn't broaden her mind to think that maybe Max was as affected by her as she was him. Also, Max had a decent point that she was the newbie on the job and he wanted her to have a good amount of experience with the safer areas of their work before doing the more dangerous aspects.
While not the whole truth – I still thought Max's point was completely understandable and logical. Sophie initially came across to me as reckless, headstrong and stubborn to a silly degree. I was relieved and pleased when my feelings toward her mellowed as the story moved on. I was also really pleased when Max unwound a little and finally explained the full story to Sophie. It helped ease much of the miscommunications between them and I really felt from that point onwards the story progressed really well. I was also glad that the emotional connections between Max and Sophie deepened and the chemistry sizzled between them both. This made the reading so much more pleasurable for me and I eagerly continued to turn each page.
The sex between Max and Sophie was hotly written and quite graphic, but there was nothing kinky or envelope pushing between them. I feel readers who prefer the bedroom door "closed" won't enjoy the single love-making scene, but readers who don't mind a bit of spice should find this fairly standard and certainly not offensive or extreme. There was plenty of chemistry and sizzle between Sophie and Max and while their Happily Ever After was a little backwards and just a bit clichéd to my mind, it gave me a definite warm and fuzzy feeling and helped me finish the story with a big smile.
A fun and lovely story that I enjoyed.
Editor's note:
This article was originally published at Long and Short Reviews. It has been republished with permission. Like what you read? Subscribe to the
SFRB's free daily email notice so you can be up-to-date on our latest articles. Scroll up this page to the sign-up field on your right.