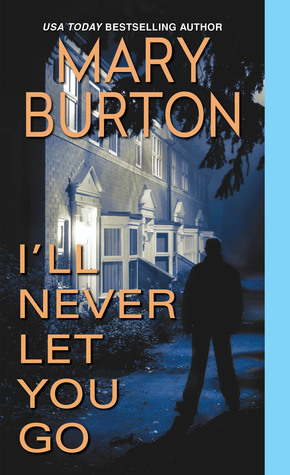 Far more suspense than romance, I'll Never Let You Go had a heart-stopping plot.
The heroine, Leah, is incredibly strong. She (barely) got away from her abusive husband once and is determined to never be a victim again. She has a lot of deep-seated fears and a little bit of OCD behavior (like checking and re-checking her locks), but who could blame her. She manages to lead a pretty normal life despite it all. I really loved how she recognized her weaknesses but took steps to overcome them. Leah was a woman to be admired.
Alex is part of the internal affairs department at the police department and not well-loved by his fellow officers (except his family, who are all involved in law enforcement in some manner). Still, he has strong values and convictions and manages to not let it really affect him. And when he has to investigate Leah's best friend, he uses Leah to get information, not realizing that eventually he'd find himself legitimately attracted to her. I got a kick out of Alex and his interactions with his family. He's an awesome guy, but almost a little too perfect. I don't think he honestly had any flaws. He was handsome, smart, honorable … but he was also likely exactly what Leah needed. Her former husband certainly had his share, so perhaps Alex in all his perfection was the only thing that would have worked for her.
The story is packed with twists and turns. While I wouldn't say it was a non-stop, adrenaline pumping suspense, it certainly kept me thinking and wondering. All the hard evidence from the past points to Leah's husband being dead, but everything happening now screams that he's alive. I knew there had to be a twist somewhere, and there is, but you won't find out until the very end!
The main reason I chose the rating I did here, though, was because the book is marketed as romantic suspense and it really isn't. The romance is nearly nil. Calling the heat "spicy" is almost a misnomer—as there is one very briefly described (no sexy details) sex scene and honestly, the first three-quarters of the book, it's really as if Leah and Alex are barely friends. Yes, there is a HEA for them, but it's a pretty quick turn of events. Believable, I suppose, but I really missed seeing the relationship truly develop over the course of the entire book.
So, don't go into this expecting romance like I did. You'll likely be disappointed. Go into this for a mystery instead and then you'll get the most enjoyment from the story. Mary Burton is a very good writer, with a clever mind and clear description. The next time I pick up a book of hers to read, though, I'll know what to expect.
Editor's note:
This article was originally published at Long and Short Reviews. It has been republished with permission. Like what you read? Subscribe to the
SFRB's free daily email notice so you can be up-to-date on our latest articles. Scroll up this page to the sign-up field on your right.