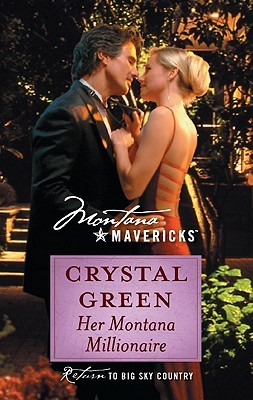 I don't believe I've ever read a story where the heroine is so blatantly stereotypical – on purpose. She knows she's got the looks, the charm, the style and the attitude and Jinni flaunts it for all she's worth. She's also used to having no problems getting men to propose and her saying 'yes'. The heroine just has this little issue with commitment; the 'yes' never turns into 'I do' – until Max. He makes her question her sense of self. It's that process and how Ms. Green wrote the journey that made this novel so engaging and charming. I actually liked Jinni and got the greatest kick out of her internal dialogues. She's actually pretty funny.
Max is a loner, a man scorned, a single dad with a kid he can't seem to reach – you know, the perfect tortured hero? Getting into his head allowed me to understand that the strong man people see from outside doesn't give the whole picture of just who Max is inside.
Being in both their POVs was positively humorous especially when they took turns teasing, seducing, bantering and employing tactile innuendo; they basically drove each other crazy with lust. Even though I tagged this as spicy, I'd call it 'spicy-lite' because the culmination, when it finally, FINALLY happened, had just enough description to say the door was open and to assure readers that they were compatible in all the best of ways.
Max has a romantic streak in him a mile wide and I think Ms. Green had quite a ball imagining all kinds of toys, pursuits and eccentricities a millionaire might have if he indulged in flights of fancy. As over the top as some of them were, I give kudos to the author for creativity that invokes the word – FUN.
Max's son, Michael is a plot/conflict mover. He's on stage enough to be a pivotal player. As for Max's brother, I'm not sure what to say about him. Actually, I'm not sure if I should add as a tag a 'sci-fi' aspect, or something. Guy is like an absentminded professor and his … discovery is the stuff of those old B movie horror flicks – totally implausible but fun. At least he's a good guy. I'm disappointed that his loose end wasn't tied up. I wonder if that means he will have his own story? I'm going to have to do some research because I simply can't leave him where this book left him.
Her Montana Millionaire was pure, enjoyable escapism that was a pleasure to read. I had fun and I think its charm could be appreciated by many fans of romance.
I think a story that leaves you smiling is a good thing. Her Montana Millionaire does that.
Editor's note:
This article was originally published at Long and Short Reviews. It has been republished with permission. Like what you read? Subscribe to the
SFRB's free daily email notice so you can be up-to-date on our latest articles. Scroll up this page to the sign-up field on your right.