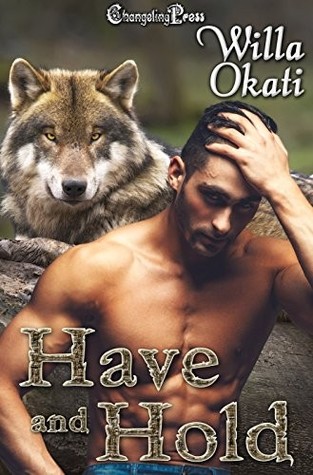 Scott has purchased the "Fisherman's Friend", a bar needing a lot of renovation and TLC. But he's not afraid of a little hard work and Scott is thrilled to finally own his own place. Scott has worked hard to save his money, change his ways and this bar is finally the culmination of Scott turning his life around. Only Maccabe is the first person to walk through his door, and suddenly Scott has a whole lot more than just a run-down bar on his hands.
I quite enjoyed this short story and loved watching Scott effectively turn his whole life around. I was only a little surprised at the male-pregnancy sub-plot. This is the second Omega wolves book I've read, so I knew this particular paranormal world supports male-pregnancies in Omega wolves, though I'd love to know some of the history/explanation of how it's possible. While I'm unsure if either Scott or Maccabe have been introduced in previous books in the series, I found the story and characters stood up well as a standalone.
I found myself with a number of questions that were never really fully answered. Are there any females in this paranormal world? I don't believe there have been any women in either of the Omega stories I've read so far. How (physiologically) can the Omega men get pregnant and give birth? While I completely understand the author can't go through a whole bunch of world-explaining each and every story – particularly considering how short the two stories I've read are and the main point are the romantic relationships – I feel I can't be the only reader with these and many other questions.
In particular there was one scene in this story toward the end where the author could well have given a little more explanation on the whole pregnancy/anatomy aspect of the world and Omega wolves and this was glossed over to the extent where even a very careful re-read doesn't give me any real answers. I can appreciate that a full-blown medical anatomy class isn't sexy or conductive to a spicy romance, but answers on how the world and therefore the characters within it operate would have made this story feel far richer and deeper to my mind for it.
I really liked the pacing of the story. I felt that both Scott and Maccabe are well introduced and fleshed out as characters – they don't simply lock eyes and instantly fall in lust in the first few pages. Their characters are interesting and not standard alpha-hero/submissive-boyfriend cardboard cut outs. I enjoyed both Scott and Maccabe thoroughly and found them interesting and vibrant in their own rights. The buildup and chemistry between them felt realistic and sexy to me. The plot around them (both the personal/relationship plot and the whole pregnancy/starting a new life plots) were engaging to me and had me eagerly turning the pages.
With great characters, a decent plot and some steamy hot sex, I feel this is a story that should appeal to many readers.
Editor's note:
This article was originally published at Long and Short Reviews. It has been republished with permission. Like what you read? Subscribe to the
SFRB's free daily email notice so you can be up-to-date on our latest articles. Scroll up this page to the sign-up field on your right.