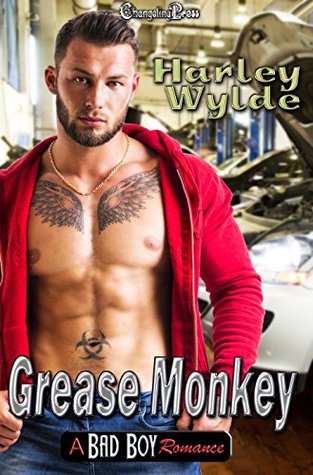 Gwen Montcliff practically never hears the word "no". A spoiled, rich little daddy's girl, to outward appearances she lives a perfect life. But Gwen was far from stupid, and after a huge fight with her father, she knew her time as a free woman was coming to an end. All too soon daddy dearest was going to marry her off to one of his rich business friends and Gwen didn't see an easy way out of it. When Lance rode up on his motorcycle Gwen immediately felt the chemistry and attraction with him. Could he be her ticket to a happier life?
I found this an interesting short story. While I initially felt very little connection (or sympathy) with Gwen I was curious to see where the author would lead with this "unhappy rich girl meets biker mechanic" style of story. While I enjoyed the relationship-building aspect of the story, I struggled a bit with the unrealistic nature of the sex between Gwen and Lance.
Gwen was a virgin so her immediate and extremely strong sexual reaction to Lance felt a little surprising to me. Her agreeing to expose herself and be sexually intimate with a man she'd literally met minutes ago didn't strike me as realistic at all. I think a lot of this was due to the fact the author didn't give me a real reason as to WHY she was so enraptured with him. Why did this inexperienced woman throw all logic and caution aside (having unprotected sex with him) and offer herself to this man who picked her up on the side of the road? At the initial, early stage of their sexual intimacy I didn't feel any connection between them. There was no reason for her to trust him, no knowledge that he wouldn't rape or hurt her – she had no idea who or what he was and she didn't even question him or his reasons.
Having said this, the sex itself was hot and explicit – excellent for an erotic romance, I just missed the emotional connection between them and this really effected my enjoyment of the story. I found Lance to be a protective bad boy with a filthy mouth and a stud in bed. About half way through the story I really started to enjoy how the plot grew more intricate. With a few plot twists and character surprises my enjoyment and appreciation of the author's story rose considerably. Even though this is the first book I've read by this author I could guess a few parts of the plot, but some of the intricacies took me delightfully by surprise and I really enjoyed the extra layers and complexities this gave the story. I thoroughly enjoyed the second half of this book.
Lance and Gwen's relationship progressed at an extremely fast pace – married within a day of meeting each other – so readers who appreciate a bit of a slower ride and the characters connecting fully before they progress might not be as satisfied with this story. Those who like a rough-and-tumble courtship and are happy to just disconnect their brain could find this a fun and interesting read.
Editor's note:
This article was originally published at Long and Short Reviews. It has been republished with permission. Like what you read? Subscribe to the
SFRB's free daily email notice so you can be up-to-date on our latest articles. Scroll up this page to the sign-up field on your right.