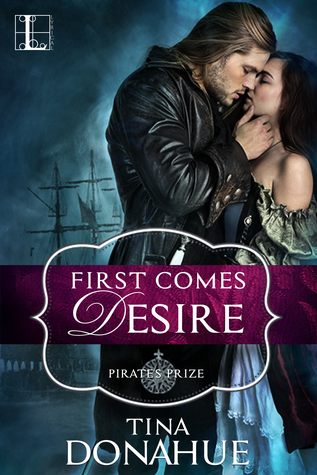 Pirates, plantations, exotic locales, seduction and sensual delights are all in store for a reader in Ms. Donahue's latest historical, First Comes Desire.
The premise of a sister looking for her brother and willing to do what needs to be done at all costs is a noble introduction to the conflict. Diana's surprise comes from underestimating a pirate, especially if he's highly intelligent, cunning, canny and astonishingly handsome. Tristan is all that plus more. The fact that he disconcerts, flusters and unnerves her makes Diana all the more determined to see Tristan hang for abducting her little brother. The fun comes from the hero's point of view. Diana has no idea what plans he has for her and the lengths he'll go to seduce her but, as a reader is seeing into both their heads, the outcome is quite apparent. The heroine is about to be delightfully and thoroughly compromised in a way only a pirate can get away with.
Erotic romance readers will find the usual array of sensual attacks on Diana's senses effective, titillating and well written. There is some light bondage but I don't classify it as BDSM, it's just Tristan being a pirate and subduing the heroine's feisty, contrary behavior. He utilizes every part of Diana's body in an erotic attack that leaves the heroine breathless and awakened and aware of her body as never before. Readers know once that happens, once passion is unleashed, there's no going back. Get ready to be satisfied.
Now comes the tough part, explaining the difference between me, a long time romance reader, and a newbie just dipping their toes into erotic romance. For new readers, this book should be a solid winner because it covers a favorite topic – pirates. It allows a woman to feel okay with a dominate man who does forceful and decadent things to get his way just because he is a pirate. The Dom/Sub aspect is definitely there even though this isn't that kind of subgenre; it's just Tristan's nature to want to subdue a worthy opponent but wanting something far more, her trust and willingness to concede. There is an exciting conflict and a suspenseful, action filled conclusion that had a surprising resolution for some of the combatants. All of that works. However, from my perspective, I was disappointed because I recognized every pirate trope I've ever read crammed into this novel. I knew what was going to happen and who was going to cause trouble and how it was going to play out and a general idea as to who would get their comeuppance and even how it would happen just because of how those characters were written. In that, the book was predictable, formulaic and a trial to get through and I was disappointed. Don't get me wrong, this novel is very well written and put together, and the erotic scenes definitely worked, but I'm too jaded by years of reading to be surprised at any of the plot/conflict points explored here because I had the feeling of been there/read that, and bought the book one too many times to get amazed by the turn of events. So please take this paragraph as an endorsement for fresh new eyes to the romance genre because I think they'll enjoy First Comes Desire tremendously. For readers like me, unless you have a craving for manly pirates, and are in the mood for a predictable format, this might be a nice bit of sexy escapism to pass the time with but doesn't come with any intriguing twists, shocks or unusual kinks.
All that being said, the author took some time to write a lengthy, meaty plot to couch the sex within and I found that to be a strong plus for this novel. I also appreciated how Diana had to come to grips with all the changes in her little brother, who wasn't little any longer. I liked the solid friendship between Tristan and his friend, James. I also think that the author did an excellent job of depicted the pirates as nasty villains and effective stirrers of the plot conflict. Ms. Donahue convinced me that they were decidedly distasteful beings.
On the whole, First Comes Desire has a lot to offer readers who adore saucy, virile pirate heroes who lust after women who eventually bring out the noble men inside of them, much to their astonishment and consternation. Diana smooths Tristan's rough edges as much as he unleashes the sensual, wild and passionate woman inside of her. The two of them are good together and the novel does conclude with a satisfying happy-ever-after that ties into the book's title quite cleverly. I suspect a lot of readers are going to really enjoy this story and be happy they read it.
Editor's note:
This article was originally published at Long and Short Reviews. It has been republished with permission. Like what you read? Subscribe to the
SFRB's free daily email notice so you can be up-to-date on our latest articles. Scroll up this page to the sign-up field on your right.