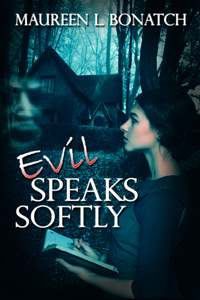 Just because you can't see it doesn't mean it can't hurt you or the people you love.
Liv's relationship with her grandmother was one of my favorite parts of this tale. They shared so many of the same quirks that I would have immediately known they were related even if the main character hadn't been so clear about it. What made this even better was that Liv would probably never admit to being so much like her grandma! The conversations between them in the beginning were thought provoking as well. There was something about her grandmother's serious approach to life that I found irresistible, especially when Liv unconsciously acted the same way.
The pacing was uneven. While it began strongly, there were several times in the plot when the characters either had far too much going on in their lives or weren't experiencing very much conflict at all. I enjoyed the more exciting scenes quite a bit, but it was a struggle for me to keep reading when Liv and Gage entered the quiet parts of the storyline.
Horror, fantasy, and romance aren't genres I see mixed together very often, but I really liked how Ms. Bonatch handled all three of them. The horror scenes were genuinely frightening, especially once the characters began to dig more deeply into the curse on Liv's family and who might be trying to harm her. What made these scenes even better was how seamlessly they were woven into the budding romance between Liv and Gage and all of the strange things that happen in a universe where spirits are everywhere. It was an unique experience to move so quickly between passion, wonder, and fear. These emotions ended up complementing each other nicely, and I was pleased with how much effort the author put into making sure she struck an even balance between all of them.
I had trouble keeping track of all of the characters. There were so many folks running around that I often mixed up the ones that didn't spend a lot of time interacting with Liv. While I understand why all of them were included, it would have been helpful to have a list of characters and their occupations to refer to so I could refresh my memory and avoid having to search for their names so often when I forgot how they were connected to the main characters.
The dialogue was well written. There were a few times when various characters said something that made me chuckle. That wasn't something I was expecting to happen, so I was pretty pleased by those moments. I also appreciated the fact that Liv and the people around her got straight to the point when they had something on their mind. That kind of straightforward dialogue was perfect for the tone of this story overall.
Evil Speaks Softly should be read by anyone who is looking for some horror in the romance and fantasy genres.
Editor's note:
This article was originally published at Long and Short Reviews. It has been republished with permission. Like what you read? Subscribe to the
SFRB's free daily email notice so you can be up-to-date on our latest articles. Scroll up this page to the sign-up field on your right.