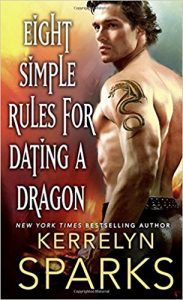 Ooh, I love me some dragons so I had to read this newest book by Ms. Sparks. I knew to expect a wonderful romance and I was not disappointed. What I didn't expect was to giggle so much about a dragon named Puff.
Once I met General Gorgeous, I was completely hooked. I had a riot of a time watching the interaction between Silas, Gwennore, Dimitri and Aleksi. I was happy to see Brody is in this novel as well. He plays a strong role for a secondary character and he is almost like plot glue. His services and skills were integral in the past two books in the series and he once again helps out in Eight Simple Rules for Dating a Dragon. This time it's Silas and Gwennore who have to figure out how the Chameleon is causing mayhem and stop him. Brody's nose is very welcomed.
Speaking of the Chameleon, Ms. Sparks has created more mystery and questions because there's a new revelation in this story. The villain isn't alone and the external conflict has hints of being more diabolical than anyone knew. Fascinating stuff!
On top of that trouble, Gwennore figured out something scary about the curse that has plagued the kingdom for centuries and it's not a simple thing. Her bravery is commendable because she still is willing to help even after what she was put through in the first couple of chapters.
As with the two previous books in the series, the heroine eventually finds out a bit of where she came from and who her parents might have been. I figured out one possibility but the second not only blew me away but stunned many of her new circle of close friends in Norveshka.
My favorite parts were when Gwennore didn't realize Silas could hear her thoughts. Those were the funniest scenes in the novel. Another thing I enjoyed was the ribbing and jesting between Silas, Dimitri and Aleksi. The author made it clear that they were best friends and very loyal to each other. I loved seeing that level of heart, emotion and trust.
Of course all of the trials, tribulations, adventures and suspense wouldn't be worth it if the romance wasn't equally as wonderful and satisfying. Indeed, watching Silas and Gwennore fall in love was everything I hoped it would be; fun, sensual and spicy, and of course, romantic. I am glad that the epilogue tied up the happy ever after just the way I like it. Of course, there leaves the question as to which sister is next in finding her other half. I came to the end of the novel with the distinct opinion of who it might be. I can't wait to find out!
Eight Simple Rules for Dating a Dragon has a great title but the book is even better. I am pretty sure that this novel is best read after the other two although if a new reader doesn't mind a varied and busy cast they might do okay. But seriously, understanding how evil the Chameleon can be and why Brody is integral to the safety of the sisters of the Isle of Moon can only be appreciated by seeing what came before. Read them all. It's a great experience and not to be missed. Ms. Sparks is amazing!
Editor's note:
This article was originally published at Long and Short Reviews. It has been republished with permission. Like what you read? Subscribe to the
SFRB's free daily email notice so you can be up-to-date on our latest articles. Scroll up this page to the sign-up field on your right.