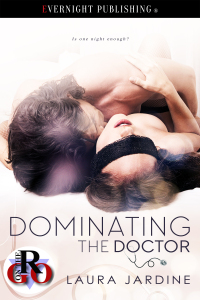 Rick had made the tough decision to break up with his most recent ex because he couldn't turn down the potential for discovering what could really lie between himself and Dr Tiffany Albert. Even though Rick and Tiffany had gone to school together, it hadn't been till he'd come home for a friend's wedding that Tiffany had knocked him out with how well she'd grown up. And she'd been on his mind pretty much ever since. Tiffany had never fully got over her schoolgirl crush on Rick, and so when he offers to do every wicked thing she's ever daydreamed about, she'd not strong enough to deny either of them.
I found this to be a fun, slightly kinky short story. I was pleased that Rick and Tiffany initially came together simply because they'd both been in lust with each other for so long, but then when they were both in bed together they could open up and admit what they truly wanted from each other. While I admit Rick's dirty talk was titillating, I could potentially understand that it could be misconstrued or considered a bit too strong (and unromantic) for two people who haven't really known each other since high school. I personally feel there's a bit of a fine art to talking dirty – walking a very fine line between using slurs in an affectionate manner – and a part of me wasn't quite certain that there was enough affection behind Rick's words to make the rude things be warm and meant with love. This was possibly because of how fast Rick and Tiffany came together and became intimate, but it could also be just the writing style and I wasn't feeling all that I should. The chemistry between Tiffany and Rick, however, was very well done I thought and I could certainly get on board with how eager they were for each other.
I found the sex was really hot and well written. A part of me feel that the few secondary characters that were introduced weren't really explored very deeply and so they didn't feel as strong or important as I would have liked. I couldn't fault the author though for making most of the focus on Rick and Tiffany and their story. Even though their relationship started very quickly their chemistry sizzled and was completely believable to me. Readers looking for an in-depth, well rounded tale might find this a bit too focused on the sex, and while I enjoyed the kink it wasn't anything too outrageous or envelope-pushing, so some readers might find it a little tame for their tastes.
With great chemistry and plenty of sex, I found this to be a fun, short story with a bit of kink and plenty of good times.
Editor's note:
This article was originally published at Long and Short Reviews. It has been republished with permission. Like what you read? Subscribe to the
SFRB's free daily email notice so you can be up-to-date on our latest articles. Scroll up this page to the sign-up field on your right.