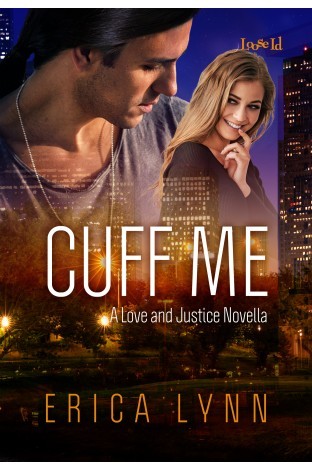 Lynette has organized a surprise divorce party for her best friend, Lexie. About to take on full time responsibility of her two young nephews, Lynette decides to let loose one last time and have a quick skinnydip in the stream behind Lexie's house. Only Robert had come outside for a breath of fresh air and can't help his attraction to Lynette. A drug lord's son and the cop who helped jail Lexie's now ex-husband, Robert has plenty to overcome and prove to himself. Can he and Lynette find some middle ground and indulge in their instant lust for one another?
I found this to be a fun, quick read. The beginning was a little sluggish for my tastes, the author spent quite a few pages explaining how Lynette was connected to Lexie, and all the background between the ex-husband, the new fiancé and how Robert fit in to everything. It was quite clear to me that this is the second book in a series and initially at least catching the reader up on all that back-story – even though the author kept it fairly brief – really did make the start feel clunky to me. A part of me wondered if it was really necessary, since the rest of the story is Lynette and Robert and the relationship they forge together, I'm not convinced that the history of the previous book is relevant to anything except for linking the world and a few of the characters. I would have greatly preferred this to have been trimmed down a little more so it could have been read completely alone with only a sentence or two to indicate there was a previous story behind Lexie and her new fiancé. Readers who have started with the first story and are eager for more, however, probably would feel completely different to myself – so it's definitely a matter of personal taste, to my mind.
Once the plot between Lynette and Robert really started moving though I found this to be a fast-paced, fantastic read. I loved how much plot there was, Robert and his history, demons and all, Lynette's grief over the loss of her sister and taking on her two small nephews, there was a huge number of plots all weaving together and I really enjoyed the magic the author injected into the story handling it all so well. Part of me wondered if this could have been made into a longer length story, certainly I felt there was plenty going on as well as the steamy sex between Lynette and Robert, but other than wishing there'd been more it was hard for me to put this book down.
The sex was explicit and well written to my mind. There was nothing earth-shattering or too over the top, so I feel most erotica readers will find themselves satisfied with both the heat level and the amount of sexiness in the story. I really loved how the author used the sex to deepen the emotional connection between Lynette and Robert, I felt it really added another layer to their blossoming relationship. The fact Robert was a hot-ass cop with a mile-wide streak of protectiveness and a man who could cook – just made it that much more appealing to my mind.
I found this to be a fun and short story with great characters, heaps of plot and a delicious amount of spicy sex. Recommended.
Editor's note:
This article was originally published at Long and Short Reviews. It has been republished with permission. Like what you read? Subscribe to the
SFRB's free daily email notice so you can be up-to-date on our latest articles. Scroll up this page to the sign-up field on your right.