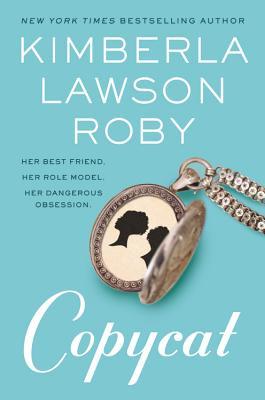 Would you find it flattering if someone mimicked your style, taste and behavior? Once Simone Phillips met her role model, author Traci Calloway Cole, Simone has been doing all she can to be just like Traci.
This isn't Traci's first time having a woman to copy her style. Which is what left me puzzled as to why Traci was being so naive to Simone's behavior. Traci has been through this, and even wrote a book about a lady being a copycat and still didn't have a clue or insight to see what Simone was doing. Her husband warned her and even her sister who met Simone only once but she was able to see Simone's fascination with Traci was questionable.
This is a quick read that for a short read had some parts that were too detailed in things that didn't necessarily contribute to the plot. The dialogue was slow but the plot made it interesting. I was curious how long Simone was going to let this behavior continue before it all crumbled. I love reading about couples and their happiness but the relationship between Traci and her husband Timothy just seemed unrealistic and too perfect.
The author delivered an interesting plot without the use of profanity or erotic behavior. References to church, scriptural quotes are mentioned but weren't overly preachy. Whether low self esteem and lack of self love or maybe Simone had mental issues… I am not sure which but the subject of losing oneself and thinking if they look like or act like someone else that this would bring about happiness is real. In her past, Simone filed for bankruptcy and lately was been responsible with her credit but then with her obsession with Traci she lost her self identity, her morals and ended up with unnecessary material possessions and building up debt that would take years to get out of. She did all this while losing herself and her fiance.
I enjoyed the pre-marriage counseling session between Simone and her fiancé, Chris. I questioned why Chris was even interested in Simone. Simone has a past that she isn't proud of. Simone's past gave some interest to the story because I definitely was wondering what she was ashamed of. Simone has some deep rooted issues and her story and her point of view was sad, but it's even more sad that she didn't realize how deep and bizarre her behavior was as she was so rapidly transforming herself into Traci.
Both bizarre and humorous, I'd recommend this story to readers who like stories a little outside the norm.
Editor's note:
This article was originally published at Long and Short Reviews. It has been republished with permission. Like what you read? Subscribe to the
SFRB's free daily email notice so you can be up-to-date on our latest articles. Scroll up this page to the sign-up field on your right.