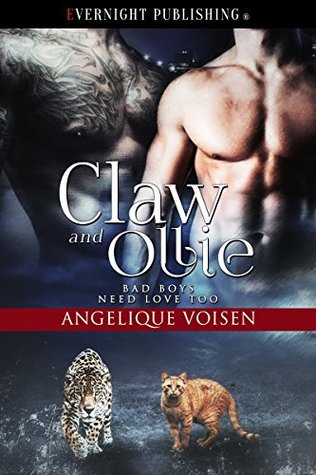 Ollie was an ex-thief and had made plenty of mistakes in the past. Having more than paid for them, he'd hidden himself away, determined not to be involved with anyone or anything ever again. Only his brother, Orange, had kept in touch, trying to not let Ollie lose touch entirely with the outside world. Eventually Orange brings Claw around to Ollie's apartment, determined that together, Ollie might finally try to reconnect with his life again if Claw is by his side to keep Ollie out of trouble. Can the two shifters come to some kind of arrangement?
I found this to be an interesting short story. I really enjoyed the depth and complexity of Ollie's character. There was plenty of back-story to him which I found a little difficult to follow at times, which I presume would have been far clearer had I read the previous stories. That said, I could understand enough to follow along, I was just left with questions. Ollie had been captured and tortured while performing his last job (I didn't really ever understand why – or how that connected to Ollie's brother, Orange) and was rescued by Orange, Orange's mate, Mal and their friend Claw. This understandably had left Ollie with emotional and physical scars and plenty of baggage. Watching Ollie try to deal with that, and learn how to move forward again, was interesting and an excellent set-up for this book.
I found Ollie's character to be interesting, layered and complicated, which I loved. Also because of this I could similarly appreciate Claw being a fairly simple character in contrast. I was pleased Claw tried to walk a balance between being genuinely sympathetic of Ollie's situation and difficulties, without walking on eggshells or pandering to (a very understandable) well of self-pity. I think the author did a really good job of helping Claw negotiate between these two things and I ended up really liking and respecting Claw and feeling like he was exactly what Ollie needed to come out of his shell and start living life again. I couldn't help but feel, though, that Ollie made some stupid decisions – going out alone at night to the enemy territory after having multiple death threats – I really felt Ollie should have known better than to act so stupidly – especially considering he'd already been kidnapped and tortured in the not too distance past.
I also found a number of grammatical/editing errors that jarred me somewhat from the flow of the narrative and this certainly lessened some of my enjoyment of the story. But I have to say that the characters were interesting and kept my attention, and most importantly I continued to want to know what happened next. A little over half way through I had to just disconnect my brain, suspend disbelief and simply go with the story, and as a bodyguard-slash-paranormal-mate style story this really was mostly enjoyable.
Readers who are sticklers against "too stupid to live" sort of moves and find even small editing errors ruin a book for them might want to give this a miss, but I genuinely feel readers who just want something fun, sexy and full of alpha-hero-shifter type characters can probably find a lot to like with this sexy paranormal story
.
Editor's note:
This article was originally published at Long and Short Reviews. It has been republished with permission. Like what you read? Subscribe to the
SFRB's free daily email notice so you can be up-to-date on our latest articles. Scroll up this page to the sign-up field on your right.