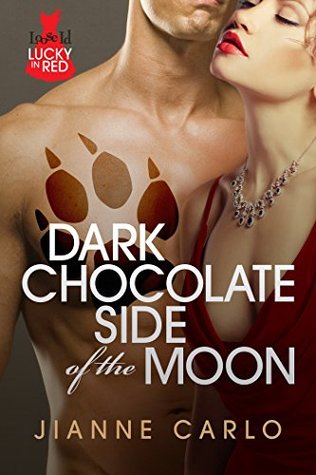 This book should come with a NSFW (Not safe for work) warning. Hot and delicious only begin to describe it.
Max is the Alpha wolf. He knows it, the reader knows it, heck, most of the town where they're hiding in plain sight seems to know it even if they don't know that wolves live among them. People turn to Max when something needs fixing or there's a problem with a citizen. Is he the mayor? Or Sheriff? No, he owns a dry cleaning business with his two brothers. Huh? Yeah, that was my reaction and yet, it's kind of perfect. It's the only business of it's type in town and therefore he sees everybody, hears all the gossip, stays in the loop and is more prepared to protect his family. And he's typical alpha hot and bossy but even I'd obey his every command.
Fate really did have a hand in choosing his mate. How else would someone explain how a Bostonian princess find her way to Sleeping Dog, Texas where it just so happens the man/wolf she's meant for, owns a dry cleaning business? See, it has to be fate…and a little suspended disbelief. But I honestly liked Candi. She's kind of a doe in the path of big bad wolf when Max finally makes his move but the chemistry sizzles off the page. The author is very talented in writing sexual tension and sexy dialogue. When I said NSFW, seriously, lots of blushing and very distracting.
I know Ms. Carlo has written a lot of other books with paranormal elements and I have to wonder if this trilogy isn't part of another bigger series. There's a side story of wedding between two townspeople that just feels like it started somewhere else. Plus, secondary characters who feel like they're established, like I should already be familiar with their place in town. Cleo and Rosa come to mind. These two old ladies are fixtures and even though they aren't wolves, they know, or suspect, and they're in the middle of everything. And very outspoken, and dirty minded, and did I mention outspoken?
This story moves really fast. One minute they're sealing the deal and the next she's resolving her backstory with her father, so it may feel rushed. Also, there are some noted inconsistencies. How he could know everything about her, thanks to a PI, but not know what the C in her name stood for? Or how her father just accepts everything Max tells him with only mild irritation. Not to mention the impromptu. Now, that was fast.
And a minor warning, Max partial shifts during sex. By partial I mean, his eyes, nails and tongue change. He fights to stay in control of the wolf and one part I especially enjoyed was when Candi notes that the more out of control he becomes, the more his language reverts to Spanish. It's really pretty hot. As it is, this story is overall satisfying in spite of the little hiccups. And it ends on good note that also had me laughing out loud more than once. In sympathy, of course.
I'm really looking forward to reading Diego and Antonio's stories as well as doing some backtracking to see if there are other stories set in and around Sleeping Dog.
This little short had exactly the right elements I was looking for: wolves, fated mates, sexual tension, small town setting and some comedic relief. All rolled together for the beginnings of fantastic trilogy of stories and more.
Editor's note:
This article was originally published at Long and Short Reviews. It has been republished with permission. Like what you read? Subscribe to the
SFRB's free daily email notice so you can be up-to-date on our latest articles. Scroll up this page to the sign-up field on your right.