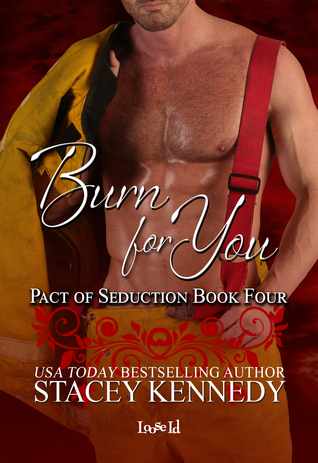 Sadie and her three best friends have made a pact – to fulfill their hottest fantasy and push the envelope. Daxton is a Dom at sex club Castle Dolce Vita and a firefighter to boot. Sadie asked Dax to fulfill that fantasy and he did – deliciously well. But they'd only agreed upon the one time, and so when Dax left Sadie is determined to move on, even if she does burn for him. When fate brings them back together, can she hold onto him for longer than one more time?
This is a lovely, hot and sweet short story. There was a plot hole that I felt wasn't explained as fully as I would have liked – how did Dax's arm get burned through his fire-fighting jacket/uniform? Those coats are specially designed to protect from intense heat. Considering that burn is why Sadie–a nurse–was sent to be his follow-up care giver, the point felt critical to the plot for me and it niggled that it felt too much like a setup. Had the circumstances of Dax getting the burn been just a little more detailed (was his jacket faulty? Did he need to hold the beam for a long period of time to protect the girl he saved?) I could have happily moved on and not felt like the burn was simply a convenience to throw Dax and Sadie together again.
While the spanking scenes are hot, I found it refreshing that the BDSM in this story was more about the mindset of a Dom/sub type of relationship. Spanking and some deliciously naughty sex outside in semi-public areas were the only kinks sexually speaking, but I enjoyed looking a little deeper into Dax's mindset as a Dominant and what he felt a submissive mindset could entail. Readers unsure about BDSM or who usually don't like much of it in their erotic romance might find this story still very interesting as it's more mind-based not whips-and-chains-sex based.
I also really enjoyed the characters. I loved Sadie and was deeply curious about Dax and the secrets he hid. There's a fair bit of Sadie's fellow dare best friends (all happily settled from previous stories) and found despite picking this book up cold – without the previous installments – I followed along quite easily. Apart from getting some of the boyfriends/friends mixed up I had no trouble enjoying Sadie and Dax's story for being just theirs and not necessarily a part of a larger whole.
I found this to be a lovely short story, hot and well written with just enough kink and plot to keep me happily turning the pages and very satisfied with a happy ending.
Editor's note:
This article was originally published at Long and Short Reviews. It has been republished with permission. Like what you read? Subscribe to the
SFRB's free daily email notice so you can be up-to-date on our latest articles. Scroll up this page to the sign-up field on your right.