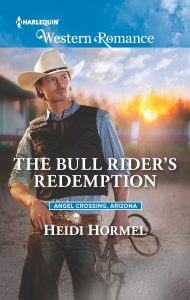 I loved the movie Pretty Woman and this book was just as good but better because of a cleverly introduced stray dog that was just as much a main character as the humans. Angel Crossing was a place where I would love to live and raise my family along with the close knit townsfolk that stand by one another and have each other's backs. Danny's family and friends were well developed characters that enhanced the love story between Clover and Danny.
The book moved along at a reasonably steady pace that kept my interest and had me anticipating each encounter between Clover and Danny. I wasn't sure if it was going to make me laugh, annoy me or give me a temporary glow. This is a testimony to Ms. Hormel's writing skills because she was able to pull at all my emotions. It was captivating to read how Clover and Danny were both out to save a dying town with different methods that weren't compatible. Yet, was their love strong enough to survive the conflict of interest?
First the heroine, Clover Van Camp, was a controlled by her wealthy mother who wanted her to be nothing more than a beauty queen in her successful clothing fashion company while never letting Clover apply her MBA diploma and help run the company. Clover's parents are divorced and her father offers her a dream job at his wealthy and successful company that would supposedly give her the opportunity to show that she's more than just a pretty face. So we have a "Miss Steer Princess" wannabe CFO heroine. Then we have a poor redneck bull riding cowboy turned Mayor of Angel Crossing, Danny Leigh. You'll have to read why and how he became mayor when he was at the top of his bull riding career.
What we have is a classic "rich versus poor" budding romance. Mr. Van Camp, Clover's father, didn't think Danny was good enough for his daughter when they first met when they were younger, nor has his opinion of Danny changed years later. Regardless of the fact that her father was never an award-winning father-of-the-year kind of parent, Clover just can't stop trying to gain her parents' approval, then or now. I found it annoying but believe me, it was necessary for the finale at the end. While all of this sounds like a typical cliché with some parts of the story being totally predictable, the love story itself still got me. Their romance is the heart of the book.
The Bull Rider's Redemption was an enjoyable, easy read. It's definitely one I'd recommend to pass a couple of hours. I do feel that a reader new to the romance genre would totally enjoy this novel. However, an experienced and avid romance book reader would spot the clichés and time-tested, well used plot techniques early on. And, believe me, I did. However, I know if this book was one of the first few romance stories I'd ever read, The Bull Rider's Redemption would have been listed as one of my favorite books.
Editor's note:
This article was originally published at Long and Short Reviews. It has been republished with permission. Like what you read? Subscribe to the
SFRB's free daily email notice so you can be up-to-date on our latest articles. Scroll up this page to the sign-up field on your right.