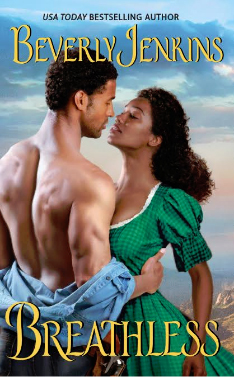 Though Portia Carmichael and her sister Regan were left with their Aunt Eddy and Uncle Rhine Fontaine and their mother didn't have the best reputation in town they turned out to be fine adult women. With a bitter assumption of love and relationships from her mother's example Portia is adamant about not getting married. We probably all have declared what we won't do and majority of the time we know how that turns out. Will the love bug make its way to Portia and perhaps leave her breathless?
Though this book didn't quite leave me breathless I did find it entertaining and to be a well written story. The first conversation was between Portia and her younger single sister Regan commenting on Portia's need to find a man. For any reader that has read previous books by Ms. Jenkins this book pretty much follows suit. There isn't any surprise or suspense as to will there be a mate for Portia; you know there will be. I would have liked for the story to have started with a neutral subject like the planning of her aunt and uncle's anniversary dinner or the arrival of Kent Randolph and then later during the relationship between Portia and Kent there could have been some resistance and her hesitation to be involved then be brought up. Emphases on Portia's underlying mother abandonment issues were repeated through out the book with no resolution; and even though the majority of the book was on Portia's lack of a love life her relationship with Kent grew so quickly it was all a turn off for me.
I didn't feel the connection between Portia and Kent. I like that they spent time together, getting to know each other but the physical seemed quick and rush. Men around town were interested in Portia but she paid them no mind but quickly found interest in Kent not even knowing his past. Her hesitation to not marry was so quickly forgotten. I would have liked to have saw something more personal and heartfelt from Portia as to why she so quickly changed her mind about marriage.
I did like that Portia is a strong and independent woman. She realized she was good at bookkeeping and set a goal to open her own business doing bookkeeping for the neighboring businesses. She wasn't a lady waiting around for a man to take care of her. She had plenty men wanting to marry her but she enjoyed working and having her independence. Her sister Regan also was a woman of independence by delivering mail twice a week with her mule Josephine, which was not kindly looked upon in such early times. Even though their mother disappointed them their aunt and uncle did a good job in bringing them up to be self sufficient ladies.
There were sub-stories that happened around town that gave a filling story. The events that unfold with Uncle Rhine purchasing Old Man Blanchard's land gave the story more interest because it built conflict and gave something to the stotyline in addition to the romance. There were several characters introduced in the story that I found it distracting trying to keep up with all the names and to figure out who was relevant to the story.
I didn't read book one in The Old Series, but I was able to follow the storyline okay. However to get the full history and background of the characters it may be best to read book one first. The author has a gift for writing and story telling. The Fontaine and Carmichael's bring about a fascinating ongoing story as part of The Old Series. I enjoyed the loving family atmosphere, the western setting is so real and the author's knowledge about riding horses was fascinating to read. I would like to continue with the series just to see will there be more revealed about Portia and Regan's mother and is there any hope for their relationship to be repaired.
This is a book that I would recommend to a reader that enjoys a love story that is simple with no frills and definitely those that have read book one in The Old Series.
Editor's note:
This article was originally published at Long and Short Reviews. It has been republished with permission. Like what you read? Subscribe to the
SFRB's free daily email notice so you can be up-to-date on our latest articles. Scroll up this page to the sign-up field on your right.