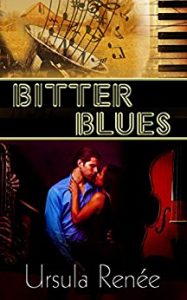 Oh how a new relationship can start out like sweet jazz. The swaying of your heart, and the rhythm of the emotions but then the tapping of life's reality may eventually reveal to you how easy it is for the rhythm change the tune to the bitter blues.
In this sequel to Sweet Jazz, Cassie Ann Porter and Randy Jones are now married with children. Will they allow society's convention on their marriage to turn their music to bitter blues?
There are many risk when one is involved in a mixed race relationship. There is a risk in losing their relationship with their family and friends, and possibly even the relationship that they may have with their children. It is a sacrifice but also can bring about a stronger unity to the family.
I enjoyed the author's writing style, which includes small details that help the reader see and visualize the characters as well as the scenery. Cassie and Randy are likable character's and they are also a lovable couple to read about.
Cassie and Randy's marriage is believable. They are dealing with issues such as lack of communication, lack of finances and they also have a misplacement of love that bonding connection that comes after a couple has been apart.
I wanted Cassie to give Randy a break. He has a lot of adversities going against him. He served his country and now he's home and isn't able to be a provider to his family. Right now Randy's focus is to find a job that will offer stability and support. His love for music and playing the saxophone seems to be what he holds on to but sadly in the beginning of the story he doesn't even play. I am all for a man being a man, being that supporter but I also believe everyone should enjoy life and have something they enjoy that brings them happiness.
I wanted to see that closeness and bond of the two back on stage or even in their own home but with Cassie so scared to publicly acknowledge Randy as her spouse after all of the sacrifices that he has made to be with her. She has her family and loved ones but Randy doesn't have anyone else. Not only does Randy feel less than a man in his own home, but to add to his worries his daughters do not have a closeness with him. I couldn't help but feel sorry for Randy. His love and protectiveness as a father hindered his thinking when he took his daughter to the nearest doctor. Randy's eyes do not see color or racial barriers. He functions off of love and, though this is a good thing, Cassie doesn't see the outcome as such. She is worried more about the repercussions or the outcome if their relationship is known publicly.
I don't want to reveal too much of the story so I'll say I did enjoy the book. I liked that the author did a sequel to Sweet Jazz so that the readers can follow Cassie and Randy to see where life lead them and how they faired. This is a realistic plot that a lot of people can relate too and even if they can't relate to the characters and their position in the story they can learn a lesson of looking for the good in what people do, seeing their efforts and not just the outcome that couldn't have been foreseen when they are doing something out of love, and not malice.
This is an enjoyable read that I do recommend.
Editor's note:
This article was originally published at Long and Short Reviews. It has been republished with permission. Like what you read? Subscribe to the
SFRB's free daily email notice so you can be up-to-date on our latest articles. Scroll up this page to the sign-up field on your right.