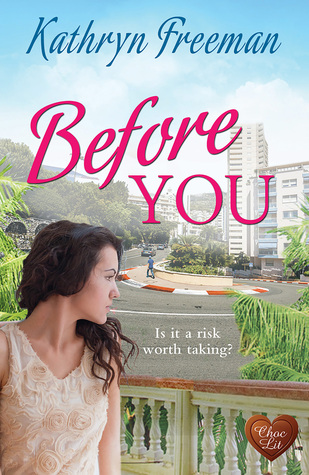 I realize this story and characters are fictional however, while reading the story, I couldn't help but to compare the main character, Aiden Foster , to the real life NASCAR racer car driver, Dale Earnheart Jr. My point is that if you are looking for a contemporary book then you can't get anymore contemporary than Before You!
It was really cool to have an inside look on what goes on behind the scenes during a racing season. I always thought it would be cool to be a race car driver but not after reading all the non-glamorous work that is involved in running the circuit. However, Aiden Foster was a delicious book boyfriend while it lasted and it was awesome to read his happy ever after ending.
Melanie Hunt was a very good press officer for Aiden Foster. Their romance was spicy, turbulent and kept me turning the pages. For the most part the book kept a good pace. I took a couple of stars off the rating because of the moments where I wanted to bang my head against the wall. I fully understood that the hero was frustrated about being compared to his father's championship-winning legacy. I got the picture that Aiden was a playboy. I understood Melanie previously suffered a broken heart and had trust issues. All good romance stories have conflicts that play with our emotions but it was almost too painful to read how Melanie and Aiden couldn't work things out sooner than they did.
Other characters were brought into the story that eased the annoying back and forth between Aiden and Melanie such as the young boy that goes missing which is mentioned in the synopsis.
The good thing is that all of that on again/ off again romance scenes between Melanie and Aiden paid off in the end. I was finally rewarded with a sense of peace. It was practically an orgasmic feeling to finally have a happy ending. I seriously was about to murder Melanie myself if she didn't wake up and realize Aiden was more than what she deserved!
I would recommend this book especially after reading the epilogue. The author did a very nice job wrapping up the story. What ever headache I might of had brewing from banging my head was magically healed. I was left feeling sated and dreamy.
Editor's note:
This article was originally published at Long and Short Reviews. It has been republished with permission. Like what you read? Subscribe to the
SFRB's free daily email notice so you can be up-to-date on our latest articles. Scroll up this page to the sign-up field on your right.