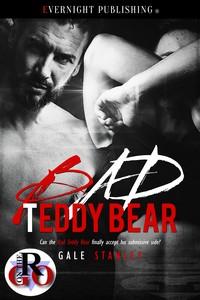 Bear considered sex to be a physical relief, nothing more nothing less. He hated cuddling, pillow talk and all the other trappings so many people seemed to think came with a good hard time in the sack. Bear works as the bouncer in a local club and was surprised to find Finn – his most memorable previous lover – is the bartender. Determined to keep his own rules about never going back for seconds, Bear is determined to forget Finn. Only it's not that easy and soon Bear finds himself once more intimately involved with Finn.
I found this to be a fun, sexy short story. I really enjoyed how Bear and Finn weren't the stereotypical twink and alpha male, despite their physical appearances. The author did a great job to my mind of making both men interesting and strong characters, and still surprising. They felt fresh and different to me. While I admit Bear is far from a romantic character, and seemed determined to fight his attraction to Finn against all odds, the chemistry between the two men was undeniable.
Readers looking for a sweeter or more emotional style of romance might be left wanting – this is a far more testosterone-fueled and edgier style of story to my mind. Personally, I enjoyed the slow build up of the story. It made me really feel and appreciate the chemistry and yearning both Bear and Finn had for each other. While I could understand if some readers find this pace a little slow – in such a short story the fact the climax really isn't reached until the last few pages is a lot more noticeable than in a longer-length story – I didn't mind it. I found myself far more satisfied when Bear and Finn finally came together after seeing firsthand exactly how badly they really longed for each other and after watching Bear fight his attraction to Finn so very hard.
The sex is hot, very slightly kinky (handcuffs and plenty of nipple and ass play) and steamily written. I loved the happy ending and found this a deliciously spicy, short read. Readers looking for hot sex and two uncompromising, stubborn and manly men – with very little romance or softening of the story line – should find this as delicious a read as I did.
Editor's note:
This article was originally published at Long and Short Reviews. It has been republished with permission. Like what you read? Subscribe to the
SFRB's free daily email notice so you can be up-to-date on our latest articles. Scroll up this page to the sign-up field on your right.