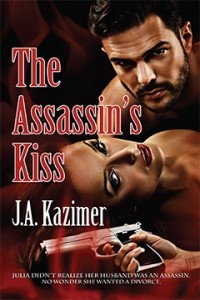 Nate Taylor and Julia have some seriously complicated history together. Both of them have been hurt by the other – Julia by Nate's lies and Nate with the way Julia could just up and leave their marriage in the middle of the night without a backward glance. But now Julia is moving on. She has a proper, decent new fiancé and a wedding – a real wedding – just around the corner. Only she's discovered Nate never signed their annulment papers, and now she is forced to deal with him and their broken vows.
This is a really interesting book. I liked how for a refreshing change both Nate and Julia have been seriously hurt by each other – there's not just one wounded party here. They each need not only to forgive each other, but also admit to their own faults. I found in regards to the romance side of the plot, this made for quite a complicated story. There's no real "bad" person in their relationship – they're both equally to blame for different reasons. There's a mountain of secrets, unresolved feelings and conversations that should have been done long ago. All of this is like a huge weight between the two of them. And this, along with a complicated, interesting assassination plot is what is explored through most of the story. I don't feel readers looking for a solid, already-together couple, strong in their romance and facing their issues together will enjoy this. For the majority of the story – even though Julia and Nate have sex a number of times – there's so many secrets, omissions and unspoken feelings looming between them they can't trust each other and continually expect to be let down by one another.
While really interesting and deeply emotional, I found personally it was all tinged with sadness. I can fully appreciate how far both Julia and Nate need to come to reconcile, but I didn't find it romantic or sexy how Julia just always expected Nate to lie or let her down. How when Nate wasn't walking away "to keep Julia safe" he was expecting her to leave him. It lessened the impact of their growing relationship and any romance the story held for me. There were good reasons for everything that occurred, the author did an amazing job of explaining all the misunderstandings, and a few of the plot twists revolving around Julia and Nate's job were really fantastic. But personally, when I read a romance story I want the emotional connections to be steeped in romance. In any good romance one would always expect conflict and problems – and had Julia and Nate started to trust each other when they escaped the first assassination attempt, had they made significant progress toward mending their relationship bridges and had there been more hope than distrust I'd have loved this book a hundred times more.
Having said all this – readers who prefer an edgier style of romance story, readers who like proper conflict, deep-seated issues of distrust and a long, hard road to relationship recovery should find this an amazing story. Both the hero and heroine really have to work HARD for their Happily Ever After – and readers who crave these stories should find this a wonderful read, good and long with plenty of plot twists to sink your teeth into. I personally found no fault at all with the plot/action side of this story. Complicated, twisted and with plenty of surprises I loved the clear thought, planning and depth the author put to this story. There is much to really enjoy and commend to this story and one I can happily recommend to certain readers.
Editor's note:
This article was originally published at Long and Short Reviews. It has been republished with permission. Like what you read? Subscribe to the
SFRB's free daily email notice so you can be up-to-date on our latest articles. Scroll up this page to the sign-up field on your right.