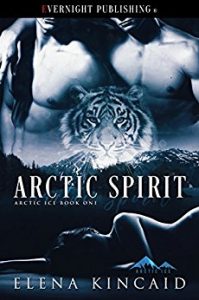 Tigers on ice. So very nice.
Charlotte had always gravitated toward Chris and Drew Malcolm. When her father was transferred away from the small town where she had spent many of her formative years, it was devastating to them all. But when fate opens up a chance to reunite with her long lost best friends she jumps at the chance.
Drew and Chris are not your average small town boys. Tiger shifters at heart, they long to reconnect with their mate, Charlotte. Enter complication: Char is human and that is going to be a trick trying to explain their powerful bond. Growing up together with secret crushes is one thing but full on mating? Can the woman they love accept them both as tigers and men? But when a danger threatens Charlotte, they are forced to act, laying it all out on the table, for better or for worse. The question is how will Char react?
These questions kept me reading. In the human world, having two husbands is for certain not the norm and Charlotte really struggles with the fact that she has adored both brothers since she was a teen. Distance seemed safer but now that she's back for a visit, she realizes that mere friendship is not enough. Que in sexy romp music. The seduction of Charlotte was smexy and hot, drawing me deeper (no pun intended) into the story.
The only issue I had was only two of the three characters had POV. I wanted to know all three characters as individuals. That and the anal sex scene was glossed over in such a way that I had to read it again to figure out just who was putting what where, and the sensations of said act were not described, adding to the confusion. There was also a reaction by Charlotte's parents that didn't quite seem on par with the human world but it didn't detract from the overall storyline.
All in all, I enjoyed the read. This shifter world has some unique rules I have not seen before and would like to see again. The first in a new series, I look forward to the next installment and will keep an eye open for hot new tigers and dragons. (Those were uber cool!) New adventures and smoking new shifters…bring it on.
Editor's note:
This article was originally published at Long and Short Reviews. It has been republished with permission. Like what you read? Subscribe to the
SFRB's free daily email notice so you can be up-to-date on our latest articles. Scroll up this page to the sign-up field on your right.