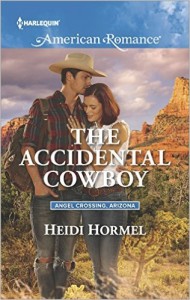 This is a really sweet romance story that is character driven and whose cast includes an opinionated cat and a donkey who thinks the cat is his BFF.
The Accidental Cowboy has plenty of adorable, charming and special moments sprinkled throughout. The romance that grows between Lavonda and Jones occurs in spits and spurts. There are mistaken assumptions, untruths or partial truths and marriage proposals for all the wrong reasons that create conflicts between them. Most are rectified and the main characters make up, and then there are the ones that cause some serious emotional plot twists that make a reader wonder if they'll ever be honest with each other and come clean on all levels.
The one thing that annoyed me was Lavonda forcing Jones to admit what he was really doing. I simply could not understand the complete disregard for the possibility that Jones might be onto something. I didn't like how the revelation was handled, how the university responded or how the people involved acted. Then, Lavonda finally lets her starch out, regrets her prudish demands and does an about face to then support Jones. All this at a time when his departure and lack of funding have finally become a reality does she finally decide to make the fateful journey to see what there was to see. I suppose better late than never, but this was the only area in the entire book where I did not think Lavonda a good heroine. I thought she was a ninny.
If not for that implausible conflict, the book is a good read. I thought the man/woman differences, the Scottish and the American differences, were well done, entertaining and put to good use. I'm a sucker for a rolling Scottish accent and Lavonda is no different except she actually gets her own Scotsman to romance her and I thought she was one heck of a lucky lady.
I'd classify this novel as a gentle romance with some light spicy loving to illustrate that both Lavonda and Jones are highly compatible. There are even some moments of effective self-sacrifice which showcases that they are worthy of the titles hero and heroine. The Accidental Cowboy ends with a confusing (because Lavonda comes from a loving but zany sounding family) but effective and humorous happy ever after that made the whole journey worth it. If you have time for a sweet read, then this is a good book to choose.
Editor's note:
This article was originally published at Long and Short Reviews. It has been republished with permission. Like what you read? Subscribe to the
SFRB's free daily email notice so you can be up-to-date on our latest articles. Scroll up this page to the sign-up field on your right.