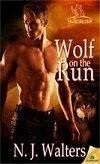 N.J. Walters nailed it with the third book in this series, Wolf on the Run. It was a fantastic story that really grabbed me by the heart and refused to let go. It had me flipping the pages and hanging on every word as I tried to guess what would happen next.
This is Cole's book, and it brings danger from a new enemy this time around. It began with an intense opening scene that pulled me right into the story. My heart broke for Cherise when she found her mother had been killed. The author gutted my emotions right away, and apparently that's all it took to get me hooked. I like to think it was fate that led Cherise to the Salvation Pack, a band of outcast wolves making their own Pack and family. Then Cole saved Cherise, and that made him my hero too.
The romance here was every bit as hot as it was sweet. Cole recognized Cherise as his mate and out came the possessive alpha traits. He was determined to hold onto her, even as she tried to protect him by running away. I liked that they were both very strong characters, and especially how Cole stepped up to take out the trash.
I hadn't realized that this series could get any better, but I was so wrong. I feel that this is the best book so far because it actually highlighted what the series is about, which is choosing your own family, not because you're related by blood or Pack, but because you want to make a better life together. A family that accepts each other flaws and all. That being said, it's one sexy read, filled with passion, action and heartbreaking drama. It had a bloody showdown that had me breathless.
As usual, the writing was excellent. The entire story flowed at a fast pace. Most notable was the character development and how easy it was to feel the character's emotions. As an example, I understood Cherise's wonder at how the Pack interacted with each other, as well as her frustrations at the loss of her own wolf. She was fearful about it and the author was adept at conveying that to the reader. Character depth is one of the attributes that I expect in a good book. This one had that and more.
I truly enjoyed reading this book. Now, the next book in this series promises to be exciting as an old enemy begins to stir anew. Just something to think about while I not so patiently wait for the next great read in what has become one of my favorite paranormal series.



Editor's note:
This article was originally published at Long and Short Reviews. It has been republished with permission. Like what you read? Subscribe to the
SFRB's free daily email notice so you can be up-to-date on our latest articles. Scroll up this page to the sign-up field on your right.