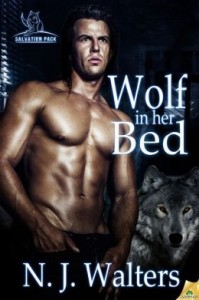 Wolf in Her Bed is N. J. Walters' next book in the Salvation pack series, set in the world so well established in the first book. This is a dangerous world, with strong and honorable heroes, and equally strong women who learn to accept that which they cannot change, and make changes where they can. The romance is just this side of scorching, and the passion rises from the page to draw the reader in to the story.
Armand LaForge is on edge after the attacks on the pack in Salvation, attacks by their old pack back in Louisiana. The only good thing to have come out of this war so far is that their alpha, Jacque LaForge, found his mate, even if Jacque's evil father nearly killed her when he attacked.
Armand needs to find a way to relax, and decides one beer at the local roadhouse might help. Anny Conrad has gone for a birthday drink with her friend Sue, and watches as her friend dances and has a fun evening. Anny is a quiet woman, but Armand notices her in the crowded room, wondering why she looks a bit sad among all the people. When he asks her to dance, his wolf recognizes her as his mate, and Armand knows he has to walk away, rather than draw Anny into the pack wars they are fighting. Unfortunately, the pack is being watched, and as careful as Armand is, his father still gets news of his one night with Anny, and comes to teach his wayward son a lesson, almost killing Anny. Can Anny accept what she has become, and build a new life that could include Armand? Can the Salvation pack keep her safe, and stop Remy LaForge from doing any more damage? Can two scarred and lonely hearts heal each other, for a happy ever after, in spite of the danger ahead?
Anny Conrad is a quiet and sensitive woman, happy to enjoy simple things. She has a core of inner strength, however, and I like how she decides to, just once, grab what life offers her in Armand. I like that she is willing to experience all that he has to offer, even if it is only for one night. I liked that she had the courage to try and fight off Remy, and when she was dying, she had the strength to accept her wolf, and live.
Armand LaForge, cousin to the Alpha of Salvation Pack, is strong, but scarred, both inside and out. He knows, deep inside, he has to let Anny go to keep her safe, but he has one moment of weakness, one night in her arms before he says goodbye. I like Armand with his sense of honor and strength of character, and his willingness to turn away from his mate rather than see her hurt, or worse. I also like his determination to protect Anny after he learns of her attack. I liked watching as he slowly worked past her defenses, making a place in her heart and her life.
There is a lot of passion and romance here, and five deliciously hot werewolves to delight. There is also danger at every turn, from the spies from the Louisiana pack, and later from Armand's father Remy. I enjoyed the fast pace of this one, it made me cry, sigh and there were some giggles in there as well. If hot and strong heroes, sassy and independent women and lots of searing romance are what you enjoy, this is well worth the reading. I recommend that these two books be read in order for the most enjoyment, but there is enough background to make this one stand alone.



Editor's note:
This article was originally published at Long and Short Reviews. It has been republished with permission. Like what you read? Subscribe to the
SFRB's free daily email notice so you can be up-to-date on our latest articles. Scroll up this page to the sign-up field on your right.