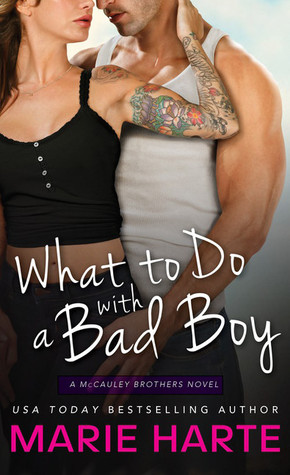 After reading this novel, the hero wasn't the only one needing a cold shower. This story has scenes so hot, I swear the pages scorched my eyebrows.
What to Do with a Bad Boy is finally giving me what I want, Mike's story. For such a fussy and fastidious housekeeper and father of such a cute little rascal named Colin, I never dreamed he had such sexy and kinky depths hidden in that big hunky body of his. Guess it took a woman with a hint of "bad girl" to get the hero to open up which means Del is the perfect woman for him. Ms. Harte made sure of that.
The internal conflict that holds Mike back is the memory of his first wife. Yes, he loved her and still does but he needs to move on. Even he thinks so. But he's got this 'ideal' that he believes he must have and having any feelings or lust for Del seems so wrong, it scares him. The interesting thing about lust is the power it can have. In this story, it slams into Mike so hard he can't help but ponder, wonder and salivate over 'what if?' That is the chink in his armor that Del slips through and the fun begins.
Del is quite a mix of brash, confident, mouthy and hidden deep inside, sentimental and purely feminine. She's definitely on the rough side but that works perfectly when she bounces that attitude of hers off of Mike. I also like the fact that she's capable, smart and willing to step out of her comfort zone for friends. There is a lot for a reader to like about the heroine.
The basic plot is focused on Mike and Del getting over their hang-ups in order to fall in love. Mike's path is onerous because he has to truly, finally and completely reconcile his past with his present. That pivotal moment was a gut punch. It was well written, dramatic and powerful because it was full of intense emotion and pain. What a great scene. Del has to learn to compromise and trust that for once, she has the real deal, true love, and Mike isn't simply going to go 'poof'. She has a hard time with that transition of expecting failure to expecting success instead.
One thing about this book is the hotness of it. Once Mike realizes that Del can take anything he can dish out, he taps into sexual yearnings he's always had but buried deep. With Del, he can be himself and once he realizes that, readers are in for some heat inducing scenes. Seems he has this thing for tying Del up and giving her orders and even spanking her when she's 'bad'. For Del, a tough and suffers-no-fools kind of gal, giving Mike that kind of power over her is a heady trip and one that shocks her because she had no clue she wouldn't mind a take charge kind of guy to that extent. Throughout all the amazing sex scenes, Ms. Harte did something fascinating. She incorporated dialogue, both internal and external, throughout their mating. The author wrote them in such a way that a reader can't simply skim over them thinking, 'oh, it's just another sex scene'. If they do skim, they'll miss the growth of Mike and Del's relationship. It's interwoven so tightly it gives meaning to the sex and makes every single moment thoroughly readable. No mistake though; have the ice handy for a few of them.
The one character I could have done without was Grace. I understood why she was included in this story, she was a conflict foil. Still, she annoyed me. The fact that Mike's mom acted the way she did annoyed me too. I expected better from her for some reason and the fact she kept on her stubborn blinders about Del just got my goat.
Colin was his usually rascally self. I enjoyed how the author got into his head and allowed me to follow his reasoning as to why Del would be the perfect mom for him. What he did to try to orchestrate it was adorable. All through the series, he was a lovable character and Ms. Harte made him shine in this novel.
I think this book could be read as a standalone but I wouldn't recommend it only because I believe that the reading of it is more powerful after reading the previous three. Ms. Harte has been slowly seducing readers about Mike and Del for quite some time. If a reader wants the full effect, read at least the previous two novels. They'll be glad they did.
Reading What to Do with a Bad Boy is like the perfect summer vacation – everything that could make the experience the best it could be, a reader gets. Mike and Del's story is a home run and closes the series with a winner of a story. The romance is wonderful, the sex is deliciously wicked and all the characters provide that family feeling of continuity and connection. I definitely recommend this book to romance readers, especially those that like their books extra sizzling.



Editor's note:
This article was originally published at Long and Short Reviews. It has been republished with permission. Like what you read? Subscribe to the
SFRB's free daily email notice so you can be up-to-date on our latest articles. Scroll up this page to the sign-up field on your right.