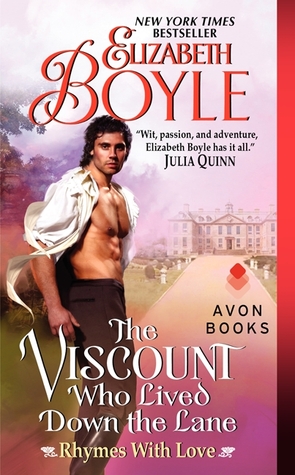 Elizabeth Boyle takes the reader to the time in England after the Napoleonic Wars when so many men had returned crippled in body, mind, and spirit. Pierson Stratton, Viscount Wakefield is one of these men. He has hidden himself away in his dark, foreboding house feeling he has no right to a normal, happy life after so many of his comrades suffered and died.
He has intimidated his family and the servants until they leave him alone to wallow in his misery. When Louisa Tempest and her cat Hannibal (possibly the ugliest and most tenacious cat in England) invade his territory, he is furious. He bars her from his house, but it is too late to bar her from his life and thoughts. As for Hannibal, he turns a deaf ear to the viscount and makes himself at home in the viscount's library where he found a suitable chair near the fireplace.
While Louisa holds fast to her declaration that her efforts are "Neighborly Kindness," Viscount Wakefield thinks she is a "meddling piece of muslin, a bossy minx, a busybody handful and as annoying as the ray of sunlight that seems to find its way between the drapes into his dark bedroom in the mornings." But, he is reluctant to rule against the changes she's made in his household because his life is SO much better.
Louisa is in London to suffer a "coming-out" season because her twin Lavinia desperately longs for one and hopes to find a suitable husband. Louisa doesn't want a husband. She just wants to survive the Season and go back to her quiet life in a small village.
When their dead mother's reputation begins to be aired even after all these years, they are cut by the "good ton." Life becomes a tangle but it gets interesting and is not without its fits and spurts of humor. Hannibal, that ugly cat, made me laugh, giggle, and smile. When Elizabeth Boyle ascribes to him the look that says, "Tell me I didn't waste a perfectly good rat on you, did I?" as he looks at the irate viscount from the safety of Louisa's arms, I gave a yes vote to that intrepid feline and to his mistress who has a lot of the same attitude.
The side stories of Lavinia"s adventures during the Season and the revival of a love long denied between the widow Lady Aveley and the love of her youth enhance the story.
The Viscount Who Lived Down the Lane bustles with happenings. The historical time is very evident as the reader sees the plight of children orphaned by the war, the working class seeking a say in government, and the lines blurring between the peerage and the rich who have worked to make their money. These things are woven into the story but do not overshadow the upbeat, "we-can-fix-it" attitude Louisa Tempest bring with her. I love a strong heroine. ENJOYED THIS ONE!



Editor's note:
This article was originally published at Long and Short Reviews. It has been republished with permission. Like what you read? Subscribe to the
SFRB's free daily email notice so you can be up-to-date on our latest articles. Scroll up this page to the sign-up field on your right.