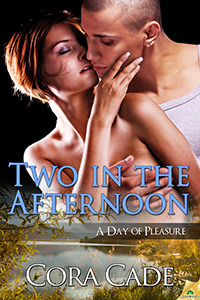 Molly Ryan has been stuck in the pub's office doing the bookwork for six hours on a Sunday. It's two in the afternoon and she's just cracked open a well-deserved beer. Although she's taken on some extra duties while co-workers were away on a honeymoon, Molly is up for the challenge. She wasn't, however, expecting the sexy stranger to drop in on her – otherwise she'd have worn her sexy pajamas for the day of surreptitious work and not her common regular ones. Cal's flight had been delayed, but he was staying around to watch over Molly and living in the apartment over the pub for a while. He hadn't, however, expected his attraction to the sexy woman to be so instantaneous, or strong, especially when there was trouble lurking around Molly and Cal's job was to protect her, not hunger for her gorgeous body.
An interesting plot woven skillfully around a bucket-load of sexual tension had me turning the pages of this book like a woman possessed. With a strong cast of secondary characters – and clearly links and hints for past and future books in the series – this seemed to me to be a well fleshed-out town and a solidly written addition. Cal was an interesting character, one I found myself wanting to know more about even as I admired him from the start. Molly is a kick ass, take-no-prisoners type of woman, and one who has dealt with problems and backs down for no one. I felt the story got a little over-populated by the number of secondary characters – but this was somewhat balanced by the fact they each fed into the various twists in the plot. No one was "filler", though it did get a bit jumbled for me at times. There's plenty going on though, from Molly's shadowy stalker to goons doing reconnaissance and Cal's twin sister's ex-boyfriend problems. I loved how so much was going on, but felt some of these sub-plots were a bit rushed and could have been given more time to really enrich the story.
This is the first book in the series I've read, and while it stands well alone, there was clearly a connection between Molly, Chris and Noah – the brothers who own the pub she works for – and it took me a short while to catch up on the already fleshed-out relationship there. This didn't detract from my enjoyment, but is something to keep in mind if readers really prefer to read their series in order. I also loved the chemistry between Molly and Cal. Their connection was present from the start, but circumstances keep them just skimming the surface for quite a way through the story. There are a few sex scenes (one of them oral sex). I found them tastefully written but mildly explicit. Readers who like the bedroom door closed might want to consider this before reading.
I found this to be a wonderful book, full of interesting characters (and plenty of hooks for future books) and an energetic plot that kept me interested. Saucy enough to keep spicy romance readers involved, but not erotic enough to make you blush, this struck a good balance for me. An author and series I'll keep an eye out for more of. Recommended.



Editor's note:
This article was originally published at Long and Short Reviews. It has been republished with permission. Like what you read? Subscribe to the
SFRB's free daily email notice so you can be up-to-date on our latest articles. Scroll up this page to the sign-up field on your right.