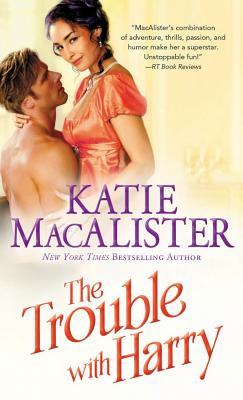 The Trouble with Harry cracked me up. It had elements of Yours, Mine and Ours, a movie about a blended family that was pretty funny in and of itself. There are not quite as many children as in the movie but that's unnecessary – rambunctious, mischievous and clever children make their mark in unforgettable ways – and this book benefits tremendously from their input.
Plum is a very unique heroine. She's shunned from the ton and has had to make the best of a very bad situation. There's a lot to respect in a woman who refused to admit defeat and pushed back at life, believing that there's something better waiting for her, she just had to find it.
What she finds is Harry. Harry the desperate, the very rich but beleaguered earl who only needs someone to take his kids in hand. What he gets is something far more wonderful – something his money could never buy – love.
As adorable and wonderful as the romance is that grows and blossoms between Harry and Plum, there is a brilliant suspenseful plot conflict that truly spiced up the tension nicely. Plum has secrets and one is so scandalously delicious that of course it gets used against her. And yet, as sick and twisted as the culprit turns out to be, it's not as simple as a reader first thinks. That is why I liked this book so much – the twist, the surprise and the not knowing how it was going to be solved is what kept those pages flipping.
My favorite secondary character is Juan. He made me grin. I enjoyed his passionate and protective nature for Plum. At first it's silly but later, later it is important. I liked that.
Second favorite secondary characters were Thom and Nick. I enjoyed the initial misconception and miscommunication between them and about Nick. It helped make the novel more rich and special.
Even though Harry comes across as less than effective with his kids, he's actually a very strong man, of body and mind. His history is fascinating and his quest is filled with all kinds of delightful drama and suspense. He's a terrific hero.
My favorite silliness is when they quote positions from 'the book'. The titles are hilarious even though I truly have no idea what they mean. It's the reactions that Harry has when Plum mentions certain ones that made me giggle. So much fun and it showcased just how perfect they were for each other.
Another thing that had me laughing was the birth process. The dialogue is hysterical and true to Plum's character. What came after was sweet, sentimental and poetic.
The Trouble with Harry is a story rich in storytelling talent. It made me laugh, gasp and giggle. The interesting thing about this novel and the other two, Nobel Intentions and Noble Destiny, is the one tiny element that loosely ties them all together. I didn't expect that and I liked how the author used it for the grand finale in the series. Each book has entertainment value but I liked The Trouble with Harry the best. There is something in Harry and Plum's relationship dynamic that worked for me and I loved getting to know them and watching them fall in love, even plagued with all the zany antics of the kids, the kitten, the animals and all the mysterious incidents that seemed to happen to them. This book is a keeper.
Editor's note:
This article was originally published at Long and Short Reviews. It has been republished with permission. Like what you read? Subscribe to the
SFRB's free daily email notice so you can be up-to-date on our latest articles. Scroll up this page to the sign-up field on your right.