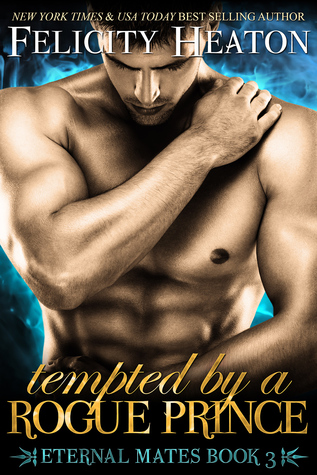 He was filled with darkness with a sliver of light. She was of light with a sliver of darkness. A Perfect Match…
Vail has been tortured by a dark witch for around 4200 years not only physically but mentally. He was enslaved by this witch to do her bidding at whatever the cost. Due to this when the witch dies he develops a hatred of witches. He goes about killing any being with magic. Then he gets captured by the fifth realm.
Rosalind is a white witch captured in the battle between the third realm and fifth realm. She is used by the fifth realm for healing wounded soldiers. Her Latest patient is the Rogue Elf Prince, Vail. When she was taken to Vail to heal him, she wasn't told anything about her patient. A bond is forged between them which helps to heal both of them not only physically but mentally as well. He escapes the fifth realm with Rosalind in tow since this bond just wouldn't allow him to leave the beautiful witch.
Thankfully, this can be read as a stand-alone book. I haven't read the first two books but for me it doesn't feel like this is the third book of the series. However, I do think I will be going back and reading the first two. This book is that good. The location of this story is in Hell. At least, that's the impression I got from the detail in the writing. More specifically, the seven realms of Hell. This elevated the story. A brief history is given about what has happened and what is happening. The blend between both of this is very appropriate. The writing style is very good.
What I absolutely loved about both the characters is that they want to help each other and others. What stops them is the darkness in them. The bond between them heals it. Vail wants to protect her, make her happy. But the fact that she is a witch is not that easy for him to get past. Rosalind is a light witch but her powers have been used for dark purposes that put an additional barrier between them. What confused me a little while reading the book is…I couldn't determine what was the main plot in this story. Is it the journey that both of them take or is it stopping fifth realm king or lord or whatever from using them or controlling them? The question gets answered completely by the end.
I loved how the relationship between both of them developed and how Rosalind tries to help Vail to recover his light. The little bits they give to each other. The tiny steps they take toward each other. It is believable because Vail has been tortured for a long time, in every way possible. There are torture scenes, too. So, this book is not for the faint hearted. Readers need to be prepared for that. I cried with them and laughed with them and smiled when they take a step towards each other. While it's an intense and dark storyline, it's not all about the battle scenes or torture scenes or romantic scenes.
An elf prince and a white witch with darkness in them. Epic battles and just the right amount of romance with a good dose of fantasy. Urban Fantasy at its finest.



Editor's note:
This article was originally published at Long and Short Reviews. It has been republished with permission. Like what you read? Subscribe to the
SFRB's free daily email notice so you can be up-to-date on our latest articles. Scroll up this page to the sign-up field on your right.