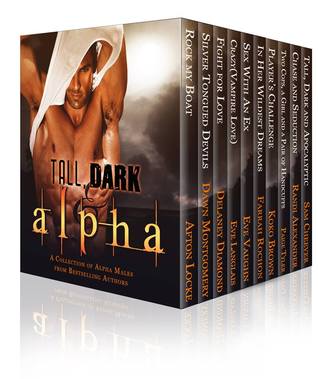 Action packed and crossing multiple genres, there was something for everyone in this boxed set. I didn't love every story but there were some that stood out and made reading the set as a whole well worth the time. I'll highlight a few of my favorites:
Silver Tongued Devils by Dawn Montgomery
I was glad I didn't have to pick a favorite genre to choose from, I'd have had a very hard time. This one is for the sci fi lovers. A decent length; not a short story but not a full length novel either. A really nice stand-alone. The scenes were not as explicit as I'd have expected. That being said, the story line actually carried it through, kept me engaged and wanting to continue to read. I enjoyed the three main characters; a bit more background to them would have been welcomed though. It was a nice read, I'd recommend it.
Crazy, Vampire Love by Eve Langlais
I'm so the lover of vampires and I adore Ms. Langlais' awesome talent. I've read more than a few of her books and she still comes through with flying colors. Can you even imagine hearing voices and everyone that knows you thinks you're crazy? So much so that 1) you believe you're crazy, 2) they've actually locked you away. A smexy vamp has been doing what I'd say is easy feeding at the Institution for "crazy" people. When Zane's compulsion didn't work on Ella, I had to laugh. I could just imagine the look on his face. Priceless. Ella isn't even sure that her visitor is real; after all she's a certified loon herself. The thing she is sure about is the voices stop speaking when Zane is around. This was just a fun and easy read. Zane and Ella's story goes to show you what's on the surface don't always run deep.
Two Cops, a Girl and a Pair of Handcuffs (The Badge Bunnies Series – Book 2)
I've wanted to read something from Paige Tyler for some time, and this was a very good opportunity. In this set Reed and Hayes are police officers and partners. Cilla is working the late shift at the coffee shop; she had been drooling and fantasizing about these lawmen for some time. The opportunity arises where they help her lock up and give her a ride home, in the name of protecting and serving of course.
This is the second book in the Badge Bunnies series but it appears to be a stand-alone.
A quick read, the story flowed well and characters were fun. There was a bit of BDSM included and that's always a plus for me. This one was an immediate win for me because the Dom made her use her voice instead of just accepting a nod when she answered. The scenes were pretty hot and the writing created some fantastic visualizations, especially in one of the scenes. I'd recommend this and will be looking into obtaining another read by Ms. Tyler.
Chase and Seduction (Hot Country 1) by Randi Alexander
I almost started singing "I'm a little bit country". Okay so what do you do when you are used to getting anything you want? Reno is more than happy not being in the "in crowd", they're both as different as night and day. One is quiet and calm the other is always on the move.
Of course Chase has a reputation that doesn't help his pursuit of Reno, because she isn't trying to be one of Chase's latest conquests. But Chase is determined and he has set a course straight for Reno.
Chase and Seduction would not have been a book I'd have picked for myself to read, but it turned out to be a good story. I liked the writer's style of writing, even though not in my genre. The story read well and characters were likable. Personally I think they would be good for each other, Reno calming Chase down, and Chase putting a bit of spark into Reno's life. It was cute, sweet and fun. Enjoyable.
Tall, Dark and Apocalyptic by Sam Cheever
I so love the whole Apolcayptic theme that one and sci fi I've been snatching them up. I'm glad this one was part of the bundle. The way the story was wrote, you could just fall in the pages with the characters. The story struggled a bit at the start, but finally pulled me in and carried me to the exciting end. Easy read, well-paced. I'd like to read something else from this writer.
Overall, my impression of this box set was that it was totally entertaining and a group of well-balanced stories. I met some terrific new authors and stepped outside my comfort genre in some cases and I'm glad I did. Readers who crave the uber alpha male will likely enjoy these stories. Even though this boxed set is no longer available, the individual books can still be purchased from the authors involved.



Editor's note:
This article was originally published at Long and Short Reviews. It has been republished with permission. Like what you read? Subscribe to the
SFRB's free daily email notice so you can be up-to-date on our latest articles. Scroll up this page to the sign-up field on your right.