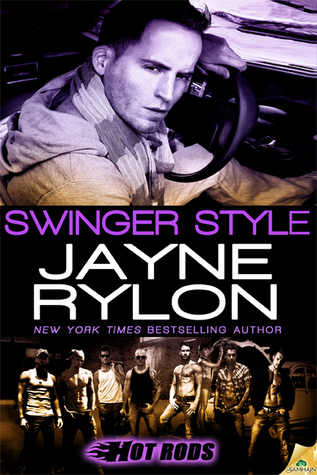 Swinger Style is the latest in Jayne Rylon's Hot Rods series, and once again it is a hot and sexy ride with these guys and gals in the garage. This world never fails to intrigue me, and I love the way Ms. Rylon makes her 'family of the heart' so real and compelling. Each character brings something unique to the mix, and each new addition to the 'family' adds to the fun and the heat. I like this world, a place where folks can be themselves, and judgment is noticeably absent.
Holden is a free spirit, never staying with one woman long. Until he meets Sabra Harp, and then he is torn, wanting her, but angry at the problems she created for the Hot Rods. Sabra is ashamed of what happened as well, and determined to make it up to the tight knit group of mechanics, and just maybe, she can also make it up to Holden, a man who intrigues her in a way no one ever has. When she brings a proposal to the Hot Rods that could change their future, is a good way, at first Holden is the lone stand out in the Hot Rods, but he can't seem to fight the feelings he has for Sabra. When he learns that she left her job as news reporter because of her belief that those higher up at her station might have been behind the 'leak', he reluctantly listens to her plans for the team. He also discovers how much he really likes her, and is delighted when the feeling is mutual. Now, if he can just learn whether she will fit into the polyamorous lifestyle of the Hot Rods, or is interested in moving forward toward a relationship with him. Can Holden overcome his lifelong fear of closeness to make a life with Sabra and the Hot Rods? Is Sabra ready to embrace the wild and loving Hot Rods lifestyle, with all that it promises? Can this group find a way to outwit the station bosses and help Sabra put her show on the air for all to see?
Sabra Hart is a strong and determined woman, and when she realizes the damage that her story inadvertently caused, she wants to make things right with those she harmed. When she realizes that those in charge at the station went against the guidelines, she quit rather than condone what they did. I like her strength of character, and she has an adventurous side that is willing to accept new challenges. Especially if those challenges include spending time with Holden. She felt the connection, and hopes he will accept the apology she offers for what happened.
Holden grew up in the center that Eli's dad and mom started, part of the Hot Rod family of troubled and abandoned children. He has always felt like part of the group, but as each of the Hot Rods found that special person, he thinks he doesn't fit the same anymore, and hates that he has become more of an observer than a participant. When he realizes Sabra is more than just a quick fling, he slowly brings her into their world, hoping for the best. I liked watching Holden show his romantic side with her, and his ability to let go of his past to face a future filled with possibilities.
Sabra and Holden have fantastic chemistry, and the progression of their relationship is fast and furious. Sabra, with her background in yoga, brings a whole new definition to going with the flow. I enjoyed the highs and the lows in this one, and liked that the 'big boss' at the station was not able to keep the project down in spite of his efforts. There is a brief visit with the Crew from the Powertools series, and it was great catching up with them as well. There are some tearful moments, some giggle producing ones and there is a very suspenseful cliff hanger of an ending to this one. If you like your passion off the charts, with lots of bodies in lots of combinations, this is right up your alley. But bring ice and tissues, both will be needed.



Editor's note:
This article was originally published at Long and Short Reviews. It has been republished with permission. Like what you read? Subscribe to the
SFRB's free daily email notice so you can be up-to-date on our latest articles. Scroll up this page to the sign-up field on your right.