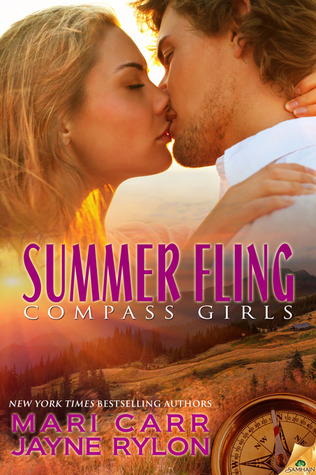 Summer Fling is the latest in the Compass Girls series from Mari Carr and Jayne Rylon. I love the world these ladies built, and am enjoying the antics and lives of this second generation of Compton Pass residents. This world is filled with passion, emotion and lots of fun as well. The heat level in this is high, and the characters are well defined and extremely likable. I like this world, and the people in it, and look forward to more in the future.
Summer is coming to Compton Pass, and for Jade Compton, it looks like more of the same old thing. Jade is restless, looking for something to fill her days and nights, something other than the usual work and family stuff. The daughter of Compton Pass' sheriff has always lived life full out, looking for the next big challenge. Her cousin will be getting married in a few months, and Jade needs something to occupy her in a new and different way. Liam Harrison has been Jade's friend for eight years, ever since the night they met by chance at the local cemetery the night of Jade's sixteenth birthday. Over the years, he has gone from casual friend to someone he cares for a lot. When she expresses her feelings about the summer ahead, Liam surprises her with a challenge of sorts: have a summer fling with him. He hopes that, by the end of summer, he will be able to convince her to take a chance on a future with him, not just a short fling. Can Liam break through Jade's defenses and show her that she deserves to be happy? Can Jade believe in happy ever after for herself? Will these two get past their pasts and find a future together?
Jade Compton is a willful and determined woman. She has a restless energy, and needs to be busy and active with new challenges. She has always felt that she needs to live twice as hard to experience life for her twin, her brother George, who died at birth. She doesn't see herself as a desirable woman, and can't picture a future for herself in a relationship with anyone. When Liam makes his challenge, she isn't sure what he hopes to accomplish, but she is always willing to try new challenges. I enjoyed watching as Jade slowly came to the realization that Liam actually loves her, and that she actually feels the same for him. I liked the strength she showed in coping with her beloved grandmother's encroaching problems due to Alzheimer's disease, and loved the interaction with all of her Compton cousins.
Liam Harrison is strong and loyal, and handsome and sexy as well. He has stood by as Jade has been reckless and daring, and has grown to love her for who she is. He has grown from the young man mourning his lost fiancée to a dependable friend who has matured into the considerate man who realizes, before Jade does, exactly what she really needs from him at this point in her life. I like that he doesn't try to change her, and wants her just as she is, faults and attitude included. I liked watching as he slowly worked past all of Jade's defenses, and made a place in her heart.
This is a sexy and hot romance, with challenges for both of these characters. This one made me laugh, made me sigh, and at times it made me cry. There are some really hot scenes, and for those, I recommend air conditioning and ice water to help cool down. I found this to be a delightfully sexy addition to the Compass Girls series, and recommend it to anyone looking for lots of heat and passion.
Editor's note:
This article was originally published at Long and Short Reviews. It has been republished with permission. Like what you read? Subscribe to the
SFRB's free daily email notice so you can be up-to-date on our latest articles. Scroll up this page to the sign-up field on your right.