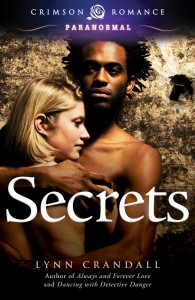 A solid entry into the paranormal romance genre!
Secrets was a well plotted and interesting story filled with mystery and longing. Our heroine, Michelle, is a strong, intelligent women trying to rebuild her life after being raped five years earlier. She struggles with feeling safe and it's also impacted her willingness to become involved with any man.
Casey is the perfect foil for her. He's incredibly patient and sweet, and also just crazy in love with her. He treats her much like the fearful, feral cats they both deal with and it keeps her from running completely away. He's such a great guy!
At first, I thought the premise in the blurb sounded a little silly. I love cats (I have cats), but basing an entire mystery on some missing cats? I think the blurb misrepresents the depth of the story, however, and I hope it doesn't keep other readers from giving it a try. The truth is there is a much deeper, more frightening mystery in there and it's all tied together with Michelle's past and Casey's past and current life.
The plot was interesting, but it's clear there was at least one other book in this series. Not that this didn't stand alone, but I could tell there was backstory with one couple here that I was missing. Even so, it didn't really impact my enjoyment of this book, just made me wonder what had happened before (and I'll most likely go check out what came before).
The story was also packed with interesting and unique secondary characters. The author did a great job creating a community here, and that always makes the story a better read for me. I adore having a group of people to get attached to. It gave the story a richness to be savored.
I also enjoyed her voice and writing skill, though occasionally some lines seemed strangely constructed. For example, "The thought hit Carter's face, and the truth registered for a moment, then dropped to the floor." While I understand what she's trying to convey, the odd vision of a thought flying across the room like something tangible, hitting him in the face and then falling to the floor pulled me right out of the story for a moment.
Still, I completely fell in love with Casey and the romance in this book made my heart sigh. Michelle is a very lucky girl. Her solid group of friends were amazing, and I can't wait to read more about them. While the mystery of the missing cats, and Michelle's property battle are wrapped up in this story, other questions arise, which makes it clear there's another installment coming. I, for one, am glad. I look forward to revisiting these characters and their world.



Editor's note:
This article was originally published at Long and Short Reviews. It has been republished with permission. Like what you read? Subscribe to the
SFRB's free daily email notice so you can be up-to-date on our latest articles. Scroll up this page to the sign-up field on your right.