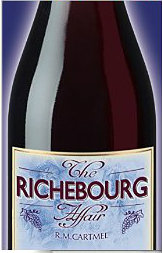 The Richebourg Affair introduces commander Truchaud of the Paris police; he is on his way to visit home, to the small rural town of Nuits-Saint-Georges. His journey is personal; all is not well in the small home vineyard overseen by his aging father. His family and old friends (largely neighbors) are happy to see him, for the most part.
The vineyard and village as the setting becomes nearly a character in its own right. Its beauty, its important role within the community as well as the central 'livelihood' for the community make the place vitally important. Community members are very connected to their lifestyles and to one another, and the dedication to their wines is strong. People know one another. Anyone might pop by for the odd wine to go with dinner, and his family is a regular customer of the patisserie but three doors down. Neighbors visit, share wine and local gossip and…in the midst of this lovely community-friendliness, Truchaud, the respected inspector, stumbles into both memory (of a long ago love) and murder.
Of course the local gendarmes (police) are immediately worried the big shot inspector from the Paris division will infringe on their territory, pull rank or, worse yet, discover what they wish he would not. It seems a clear concern about respecting borders, but it might be something more.
However, Truchaud is sensitive to their concerns; he's a respected, logical thinker who it's easy to like, immediately.
A few small matters (a missing season of wine, that should be aging in the cellar, for example) strike Truchaud as odd, but he slowly uncovers that which is more than simply out of place. It starts with a casual concern about the appropriate tax on certain products, and proceeds toward fraud, betrayal… deceit. Suspense builds slowly, and then concern. The clever inspector is working alone because, although his family is quite close at hand they are somehow…possibly…involved.
R.M Cartmel joins the ranks of the best of the classic crime writers here: one whose mystery has the full character development of any novel, with believable events, attention to police procedures – and that hard to define element which makes the story very difficult to put down. I rank R.M Cartmel with my own personal favorite, Dame Ngaio Marsh, and am delighted to discover this contemporary writer creating mysteries. This one is right at the top of the charts! Do put The Richebourg Affair on the top of your reading list: and I will be watching hopefully for another 'Cartmel.'



Editor's note:
This article was originally published at Long and Short Reviews. It has been republished with permission. Like what you read? Subscribe to the
SFRB's free daily email notice so you can be up-to-date on our latest articles. Scroll up this page to the sign-up field on your right.