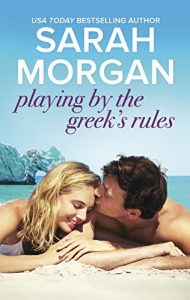 This is a romance story to hug close and re-read when I need a happy boost. The premise uses a typical trope but the delivery is pure magic and Lily Rose is so delightful and funny, I loved the heroine's personality. Mr. Iceberg Nik didn't stand a chance.
I've been a fan of Ms. Morgan for quite a number of years but I have no idea how in the world I missed reading this little gem. It's practically perfect. I can say in all honesty that I disturbed my hubby's concentration as he watched his favorite T.V. show because I couldn't help but laugh out loud. First it was the power shower, and then there were two other scenes at which I was powerless to stop the giggles bursting forth. I talked out loud to my Nook and gasped when I figured out who Lily was talking to on the phone. Oh no! Oh, yes. That's Lily for you. The heroine's effect on Nik must have felt like a roller coaster to him; many times I'm sure he felt the sudden drop after the amazing highs only to feel dizzy from the loop-de-loop that is the heroine's personality. She kept him on his toes. He never knew what she'd say next and that was half the fun.
Dialogue. I absolutely, totally, without doubt or hesitation, ADORED Lily's dialogue. How Nik held out from falling in love with her as long as he did astounded me. She made me laugh with her turns of phrase. I cannot say enough good things about how Ms. Morgan presented her heroine and her quirky nature. Everyone should have someone in their life that is as imaginative with their dialogue, idioms and phraseology as Lily's was. It worked because her character came across as sincere, caring, loving and supportive. The one element that I believe is her greatest strength was her capacity for forgiveness. That is a personality trait that would benefit everyone in real life and the author had her heroine live it, not just pay lip service to the sentiment. I was very impressed.
Any reader who is serious about reading quality romance stories needs to pick up their own copy of Playing by the Greek's Rules to see what I'm waxing poetic about. If I can find this in a print book format somewhere, I'm buying it so I can literally put this on my 'keeper shelf'. That's how good this book made me feel after I read the final paragraph and why I give this novel a high rating. Ms. Morgan rocks!
Editor's note:
This article was originally published at Long and Short Reviews. It has been republished with permission. Like what you read? Subscribe to the
SFRB's free daily email notice so you can be up-to-date on our latest articles. Scroll up this page to the sign-up field on your right.