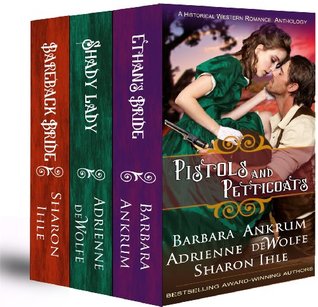 He never expected her to be pretty…
Cowboys have always seemed sexy to me, so that led me to read this anthology. There are three stories included about different points of history and they are all good reads. Why not jump on your imaginary horse and go along for a ride through the book?
In this anthology, we have ETHAN'S BRIDE by Barbara Ankrum, SHADY LADY by Adrienne deWolfe, BAREBACK BRIDE by Sharon Ihle and all three authors write a story with an interesting plot.
My personal favorite of the three was Ethan's Bride. She's a mail order bride and he's a widowed doctor. He almost panics when he meets the train because she's prettier than she appeared to be in her picture. After all, all he wants is a mother for his child; he's not looking for love. If sex happens, that's fine. It's not a thing of love, it's a need. For some reason, this does charm his new wife, Violet. She is in love with his child and it doesn't take long before she can see behind his façade and understands it's hurt from his past that is making him not take a chance with the future. Life for them gets much more interesting until things settle down. Ms. Ankrum touches on the civil war and its dead and how that influences the living. That added depth to the story and made it more enjoyable read.
Shady Lady is about a prostitute who has big plans for her future. They don't include a kid from the past who now has a reputation as a fast accurate gun and a nickname of Rebel Rutter. When he wants to rent her for a month, she quotes him $6,000, knowing he can't ever raise that much. She tells him he can't rob a bank. So he does sharp shooting and others bet on him. He makes the sum but he's not won the babe… Ms. deWolfe writes of sharp witted, mercenary prostitutes and cowboys that have barely been tamed. This is lot like the real west was and it's not always pleasant.
Bareback Bride was fun. She's part of Arapaho and a trick rider and shooter. He's the horse boss and he first tests her on the back of bucking bronco without telling her, of course. When they incorporate a kiss in the Wild West routine they do, it sparks an extra interest in them both. This talks about Wild Bill's show, throws in a protective family and ends on an impulse. It's a fast read with no real surprises, but good fun.
There's something here for everyone. If you haven't read much about the west, you have some new territory to explore.



Editor's note:
This article was originally published at Long and Short Reviews. It has been republished with permission. Like what you read? Subscribe to the
SFRB's free daily email notice so you can be up-to-date on our latest articles. Scroll up this page to the sign-up field on your right.