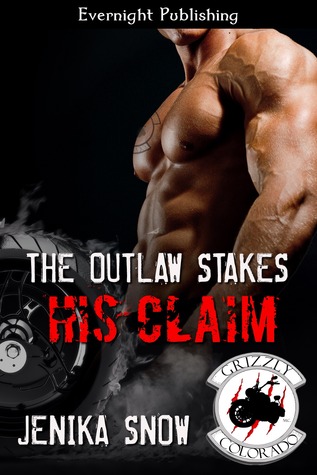 Ooh, I loved this one! Jenika Snow did it again with this amazing love story. Heck, I was already half gone for Dallas, but then the author hooked me completely with a romantic beginning that I will never forget.
Dallas had been suffering from guilt and regret for a while now. It was a darkness on his soul that was beginning to overtake him. Not even his Grizzly Brothers could reach him since he'd been hiding the pain from everyone except Diesel. So picture this : He was lost and alone, standing out in the rain contemplating who knows what, when Hope, the mate he thought he didn't deserve comes driving by. That moment was so poignant to the story, cause he looks right at her as she comes into his life. I was just gushing all over the place, I tell you. Then the story line really picks up later on when Dallas saves Hope from a redneck bully.
The thing I liked most about this one was the romantic element. Their first meeting, the rescue, the sizzling connection and how close they became. This author never disappoints in that department, but I felt this one was something special. They each had their own pain and sadness that would always be with them. But they had each other to make it easier. To me that's why they were so perfect for each other. The author made me believe that their relationship was real.
This was the perfect book for me. The writing style was fluid and the story flowed with ease. The dialogue was naughty, with sex scenes that were on the steamy side, just the way I like it. It had everything, really. It's a gritty MC romance. It's a shifter romance. It has awesome characters with a captivating love story. Dallas was a real bad-ass biker with regret for the bad things he's done. He found Hope right when he needed her, cause things weren't looking too good for him until she came along.
I love this series. I really loved this book. Lastly, I can't wait for the next book.
Editor's note:
This article was originally published at Long and Short Reviews. It has been republished with permission. Like what you read? Subscribe to the
SFRB's free daily email notice so you can be up-to-date on our latest articles. Scroll up this page to the sign-up field on your right.