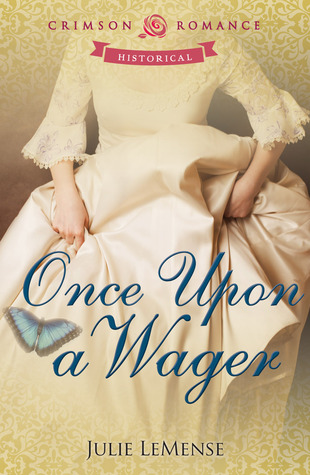 Even the most honorable and temperate men hide a passion in them. If you don't believe it, Alec Carstairs will convince you.
Unlike the majority of historical romances, the hero in Once Upon a Wager is not rake who's after a respectable lady. Alec Carstairs is an honorable and a rather reserved man. His polite manners and 'priggishness' – according to his best friend Lord Marworth – would make for an unremarkable hero if Ms. LeMense hadn't juxtaposed those aspects of his character to the consuming passion that threatens to undo him every time Annabelle is near him. The author manages to show the strength of his love and devotion precisely through this duality of his character.
Another factor that adds to the strength of the conflict is the tragedy and pain that Annabelle had gone through. She's not a whimsical character with nothing in her past to support her characterization. Instead, there's a credible change in her personality after the accident, giving her and the plot a lot of weight. Needless to say, the hardships in Annabelle's life convince the readers to feel for her and invest themselves into the story. And in the end, we are nicely rewarded for that.
Even the secondary characters are compelling, and I will be severely disappointed if Lady Jane and Lord Marworth don't get to tell their story, preferably a shared one. I loved Sophia, the slightly eccentric, daring woman who introduces Annabelle to society and advises her to take everything with a grain of salt because the ton is a capricious, unreliable phenomenon. The relationships are so convincing I could picture Benjamin's and Alec's banter, Benjamin flirting with Annabelle just to annoy Alec, Sophia reading Annabelle's and Alec's emotions like an open book … And the chemistry between the protagonists would cause the pages to ignite had I been reading a paperback copy.
The pace of the story was such that I wished I could read the book in one sitting. Even the break between the first and second parts served its purpose, making the emotional distance between the protagonists more perceptible and their cold, distant attitude towards each other even more believable.
I'm glad I got the chance to read Once Upon a Wager because it was one of the best historical romances I've ever read. I sincerely hope to read more from Ms. LeMense.
Editor's note:
This article was originally published at Long and Short Reviews. It has been republished with permission. Like what you read? Subscribe to the
SFRB's free daily email notice so you can be up-to-date on our latest articles. Scroll up this page to the sign-up field on your right.